President Barack Obama pushed Congress passionately for gun control. He urged reason in the search for a bipartisan fiscal agreement. But on climate change, he delivered an express threat—either Congress would take action to reduce emissions, or he would do so by fiat.
Other modern US presidents probably have issued ultimatums to their opponents in the august House chamber in the annual State of the Union address. I don't recall one. Obama's immediate predecessor, George W. Bush, did once threaten to get Osama bin Laden "dead or alive."
But in his address, Obama said, "If Congress won't act soon to protect future generations, I will. I will direct my cabinet to come up with executive actions we can take, now and in the future, to reduce pollution, prepare our communities for the consequences of climate change, and speed the transition to more sustainable sources of energy."
Here is the video. (Ad alert.)
Twitter was fairly active on the subject.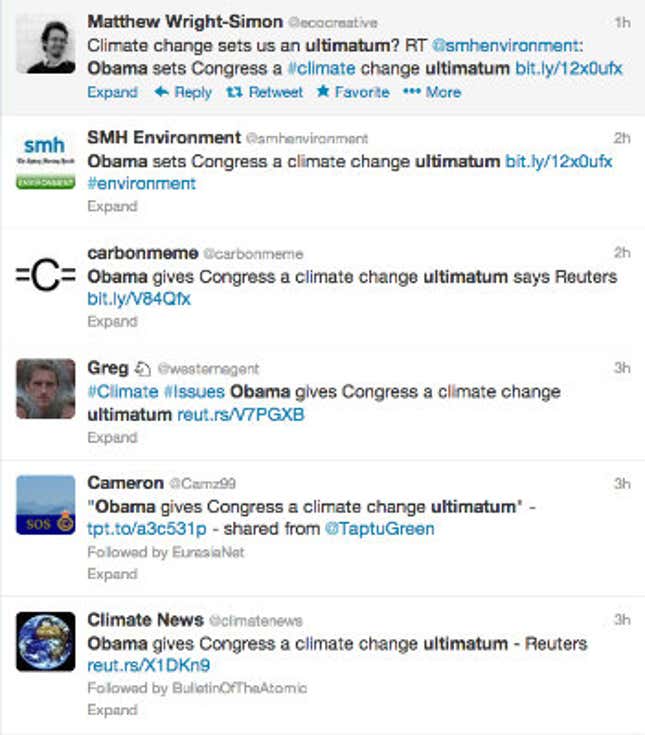 In his lead-up, Obama became downright insulting to opponents on the issue, many of whom call climate science a hoax. "Now, it's true that no single event makes a trend. But the fact is, the 12 hottest years on record have all come in the last 15," he said. "Heat waves, droughts, wildfires, floods, all are now more frequent and more intense. We can choose to believe that Superstorm Sandy, and the most severe drought in decades, and the worst wildfires some states have ever seen were all just a freak coincidence. Or we can choose to believe in the overwhelming judgment of science and act before it's too late."
Why the single threat? It is hard to believe the reason is strength of conviction—Obama must believe as strongly about gun control as extreme weather. Perhaps, given the hostile landscape in Congress to climate change legislation, he is simply signaling that he intends a spate of executive orders and regulatory moves by the Environmental Protection Agency.