The Mexican government has been waging a drug war for 40 years. But in all that time, it has generated very little in terms of public and consistent data to help Mexicans understand their country's brutal cartels—or how effective their elected officials have been at combating them.
A new interactive project by Animal Político, a digital-media startup with six reporters, is trying to fill that vacuum.
The project, called NarcoData, published its first graphic on Oct. 27. It's packed with information about the evolution of drug cartels since 1976, including the geographic scope of their activities and the names (and nicknames) of their leaders.
The headline: Seven presidents, few results: 40 years of organized crime expansion.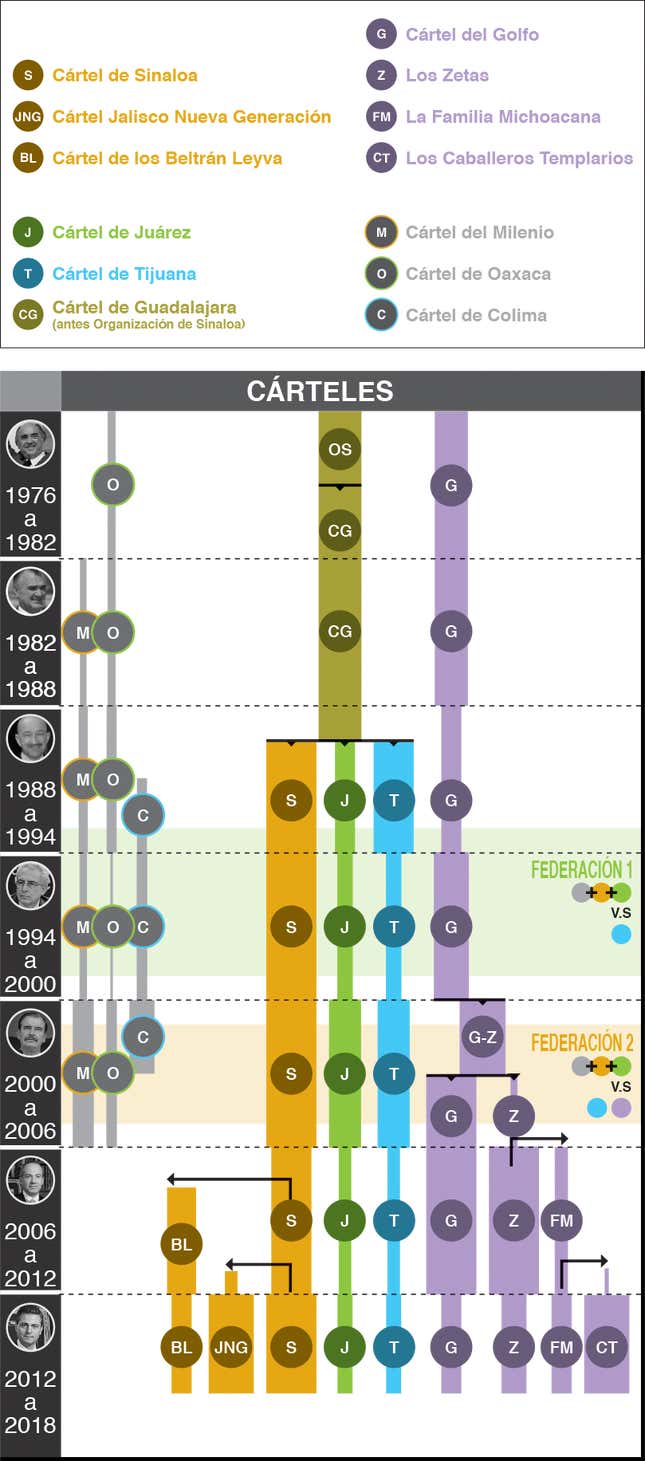 The lines represent cartels and their splinter groups; the width the number of states where they operate.
"We don't doubt that Mexico's attorney general has all this information organized in a systematic way, but no one has access to it," Dulce Ramos, Animal Político's editor in chief, tells Quartz. "It's never been provided to citizens."
Despite a new transparency law that was enacted in May, Mexican officials are still keeping many documents secret. Of the 15 million records registered with Mexico's national transparency institute—the agency that oversees the dissemination of public information—more than 12 million are classified (link in Spanish). And the figures that the government does release can be incomplete or faulty.
Last October, several nonprofits urged the government to get more serious about its record-keeping on public safety, citing "inconsistencies and unjustifiable modifications" (link in Spanish). After the kidnapping of 43 students in the state of Guerrero, UN officials in February chided Mexico for lacking "precise statistical information" (link in Spanish) on the number of forced disappearances in the country, saying that "impedes knowing the true magnitude of this scourge and makes it difficult to adopt public policies to combat it effectively."
Mexican president Enrique Peña Nieto has said he is committed to keeping citizens informed (link in Spanish) on what public officials are up to, and he had agreed to speak at the Open Government Partnership's Summit in Mexico on Oct. 28.
Still, out of more than a dozen data requests Animal Político made under Mexico's transparency law, only two were granted, according to Tania Montalvo, a reporter involved with NarcoData. Officials at the transparency institute did not immediately respond to requests for comment.
The government rendered several pages of blurry PDFs that Animal Político and Poderopedia, a Chilean group that collaborated on the project, researched, fact-checked, and analyzed to build a series of interactive visualizations detailing turf wars and cartel-affiliated armed groups.
"The country's history cannot be understood without the spread of drug trafficking," Montalvo tells Quartz.
The group's work, which was partly funded by HacksLabs, a data journalism incubator backed by the Knight Foundation and the World Bank Institute, will be published online in the next few days, along with the raw data it relies on.