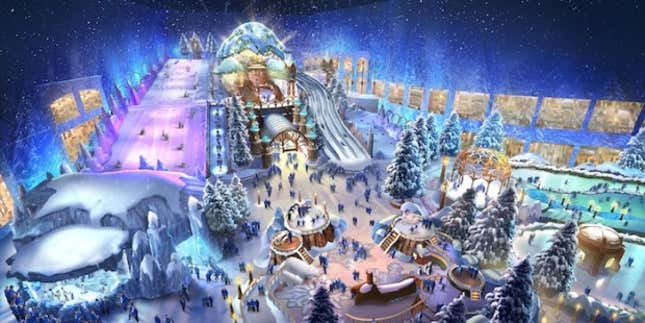 Abu Dhabi, the Gulf emirate with scorching temperatures that are only going to get worse thanks to global warming, is going to make it snow in the desert.
The developers behind the $1 billion Reem Mall project told The National said the facility will include a 11,600 square meter (125,000 square feet) snow park that will feature sledding, luging, and zorbing (that's tumbling down a hill in a transparent plastic orb, in case you weren't already familiar).
The snow park is sure to rack up some gargantuan air conditioning bills. Reuters reports that Dubai's similarly sized indoor ski facility helps to explain why United Arab Emirates one of the world's highest per capita power consumers and carbon emitters.
And the area's sky-high temperatures are going to get significantly worse: As Quartz reported this week, researchers expect that the average temperature in the Gulf could be as high as 35ºC (95ºF) by the end of the century.