The tyrannical reign of the skinny jean is finally reaching its twilight.
After years of circulation-busting, calf-squeezing fashion domination, skinnies are being surpassed by wide-leg jeans, says trend forecasting agency WGSN.
The conclusion is based on WGSN's comprehensive survey of denim pant widths on the major Fall/Winter and Spring/Summer catwalks in New York, London, Paris, and Milan. But even for those of us who stay away from budget-busting designer jeans, the denim on the catwalk rapidly affects what's available elsewhere.
"The runway is definitely influencing the masses in terms of silhouette," Jaclyn Jones, WGSN's womenswear editor told Quartz. 
Just take Rachel Comey's Legion jean, which the New York-based designer first introduced for her Resort collection in June of 2014.
With its cropped wide leg, high waist, and frayed dropped hem, the $345 jean became an instant best-seller, inspiring waiting lists, a "cultiest new cut" label from Vogue, and countless imitations from lower-priced labels.
In addition to Comey's similarly easygoing styles for Spring 2016, Jones predicts Dries van Noten's pleated palazzos, Chanel's wide-legs, and Alexander Wang's striped straight-legs will all help ring the death knell for the skinny jean.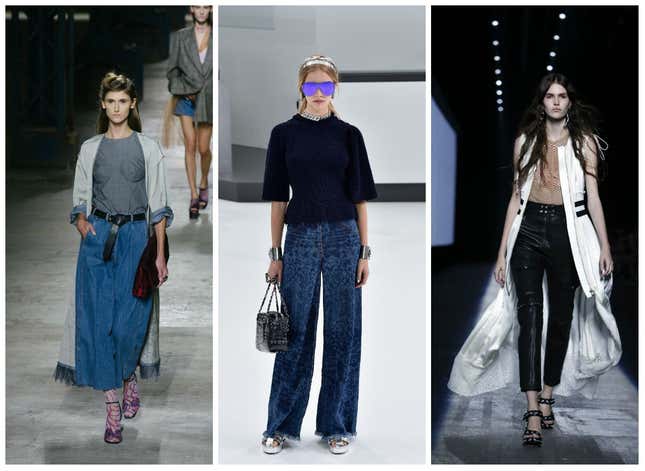 "Customers are ready," she said.
And that could be good news—for both customers and for the denim sector at large, which is contracting as activewear continues its takeover of the global wardrobe.
Perhaps the greatest thing about the comeback of wide-legs, flares, and old-fashioned 501s is that many of these silhouettes are already in our closets. I've been approximating the shape of Rachel Comey's Legion by cuffing a pair of vintage Calvin Kleins, and the Los Angeles-based company Re/Done recycles old Levis into more flattering styles and sells them online for about $260, which may seem expensive until you consider Vetements' version for $1450.
That said, the Great Leg Easing of 2016 hasn't reached the masses just yet. Fashion e-commerce aggregator Lyst told Quartz thats skinny jeans still outsell wide-legs by a whopping 266 to 1, but wide-leg and flare styles are up 320% from October 2014, and have particularly spiked in New York and London over the last six weeks.
Breathing room is on the way.