It wasn't a Manny Pacquiao fight that broke Twitter in the Philippines. Twitter confirmed this week that a live concert about a Cinderella-themed Filipino soap opera is now the most tweeted event in history, calling it "a global event."
The hashtag #AlDubEBTamangPanahon (translation: AlDubEB In the Right Time in Tagalog) garnered 41 million tweets during the period around the Oct. 24 event, which was attended by some 55,000 fans and broadcast throughout the celebrity-crazed country. It eclipsed the previous record of 35.6 million tweets during the Brazil vs. Germany match at the FIFA World Cup in July 2014.
The rather long Twitter hashtag only makes sense if you're Filipino or watch the long-running Philippine noontime television show Eat Bulaga (the "EB" in the hashtag), where the soap opera segment is aired.
"AlDub" is a mash-up of the protagonists names: actor Alden Richards, who plays a fictionalized version of himself, and Divina Ursula Bokbokova Smash (or "Yaya Dub" for short), a nanny known for posting lip-synched movie clips called Dubsmash videos, played by 20-year-old actress Maine Mendoza.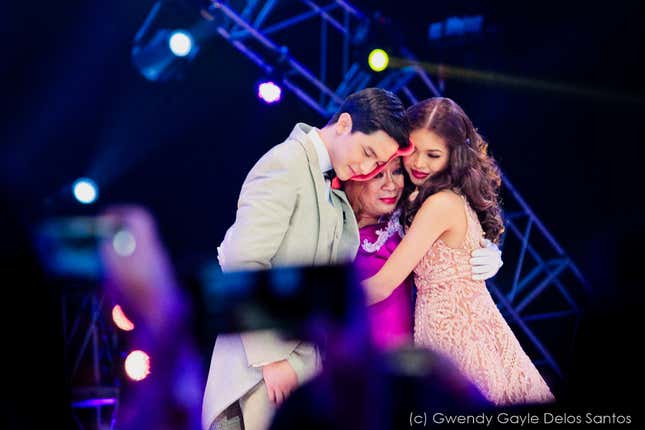 The soap's plot centers around titillating near misses between the actor and the nanny, who is forbidden from meeting her consort by her three flamboyant employers, playing the foil like in Cinderella. The live event is a climactic moment for the Filipino fairy tale, when the nanny is transformed into a princess and finally allowed to dance, hold hands, and almost kiss her prince on the cheek. Almost.
Richards' and Mendoza's romantic comedy antics are largely improvised, performing live during 30- to 90-minute episodes in the variety show. During their segment, Filipinos scamper to the nearest television screens in malls, office conference rooms, even neighbors' homes. Some stores even temporarily shut down so its proprietors won't have to miss a second of the unfolding drama.
At a local salon, the sign says "Hair cuts will be available later after AlDub's most anticipated date."
The soap has also inspired a universal hand gesture for its fans: a coy cupped-hand salutation called the "pabebe" (baby-like) wave, equivalent to the Vulcan salute for the growing Aldub nation.
Photos used with permission to Quartz from photographer Gwendy Gayle Delos Santos.