An international arbitration court ruled last night (Oct. 29) that it has the authority to decide whether China is violating international law with its claims in the South China Sea, two years after the Philippines first lodged a complaint. The decision paves the way for a trial that could force some conclusion to the long simmering conflict in the resource-rich waters—although China has already said it won't participate.
China is boycotting the proceedings because it claims that the court, the Permanent Court of Arbitration based in the Netherlands, has no jurisdiction in the matter, in part because China and the Philippines have signed bilateral agreements in the past on resolving the dispute.
The court explained why it rejected that argument and others like it in its nine-page press release:
…the Tribunal has held that the China–ASEAN Declaration was a political agreement that was not intended to be legally binding and was therefore not relevant to the provisions in the Convention that give priority to the resolution of disputes through any means agreed between the Parties. The Tribunal has likewise held that certain other agreements and joint statements by China and the Philippines do not preclude the Philippines from seeking to resolve its dispute with China through the Convention.
The tribunal will rule on whether China's claims related to the "nine-dash line" violate the United National Law of the Sea, or UNCLOS, whether certain water features should be classified as "islands, rocks, low tide elevations or submerged  banks" (each carry different rights under the law), and whether "certain Chinese activities" in the South China Sea violate the convention.
China's Nationalist government issued maps with the nine-dash line claiming nearly the entire South China Sea at the end of World War Two, and recently China has begun creating and expanding islands in disputed territory by dredging up sand, then building airstrips and lighthouses on them. The Philippines, Vietnam, Malaysia, and Indonesia all have competing claims in the sea. A US navy destroyer sailed within 12 miles of one such island in the Spratly archipelago earlier this week, signaling that the US considers the area "international waters" and does not respect China's claims.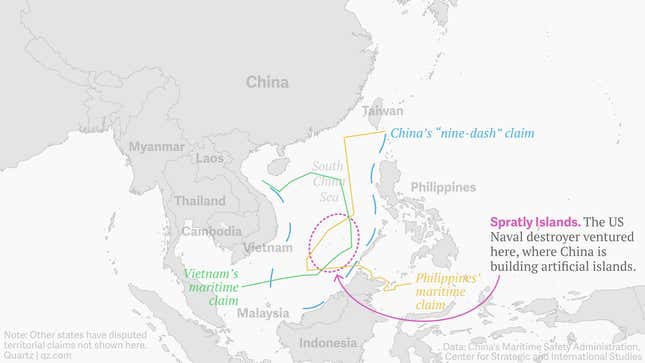 It doesn't matter that China will boycott the trial, the Hague court indicated, because both China and the Philippines are signatories to UNCLOS. China's "decision not to participate in these proceedings does not deprive the Tribunal of  jurisdiction," the court ruled.