Most of us know the hazards of over-indulging on irresistibly cheap, semi-disposable, fast fashion clothes from global chains such as H&M and Forever 21: We have overstuffed closets with nothing to wear, with consequences that are environmental, ethical, and even neurological. But the challenge that fast fashion attempts to answer—the need to dress presentably on a limited budget—remains.
Cheap Chic, a style bible that first appeared four decades ago, addresses just that conundrum. "We've become spoiled in America," write authors Caterine Milinaire and Carol Troy in the original 1975 introduction. "Surrounded by mass manufacturing and mass marketing, we stuff our closets with masses of mistakes."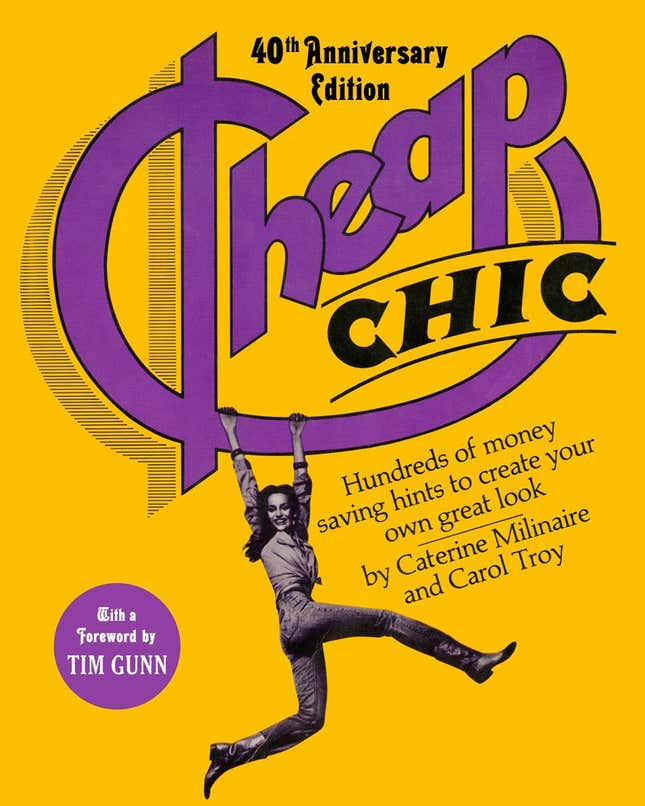 What follows in the pages of Cheap Chic—now in its 2nd edition, with a new foreword by Tim Gunn—is a wholly modern manifesto, albeit peppered with charmingly retro phrases. (One fabulous vintage store is anointed with praise as a "top banana.")
The book is packed with advice as practical as it is stylish. Embrace your personal look, buy fewer, better things, and take excellent care of them, urge a hodgepodge of contributors, including Yves St. Laurent, Diana Vreeland, Betsey Johnson, and Fran Liebowitz. Some of the book's best shopping and styling tips come from little-known photographers, "ragpickers," office workers, and assistants.
They are feminists, uniform dressers, thrifters, eccentrics, and early athleisure champions who would likely be Instagram stars if they were young today. Here, a handful of excerpted tips and truths which, like a solid army surplus jacket, have withstood the test of time: 
Start with the best possible canvas: your body
"You have to have a sense of pleasure and a sense of discipline to look really well. You have to have a sound, athletic body, lead a busy life, and worry less. Live correctly and take risks." – Diana Vreeland
Calculate an outfit's "cost per wear" to make your money count
"Summer and winter I wear a St. Laurent crepe de Chine skirt with narrow stitched-down pleats. I've had it since 1972, so I've worn it almost four years. It was on sale for $60, but the "Cost Per Wear" is small.

Price/Number of times worn = C.P.W.

$60/400 = 15 cents per wearing
I've worn it at least 100 times a year over four years, so the CPW comes to 15 cents a wearing. In contrast, take what sounds like a cheap evening dress I bought on sale for $16 some years ago—I only wore it twice, so the CPW was $8. Compared with the 15 cents for my expensive skirt, that evening dress turned out to be a waste of money." —Ingeborg Day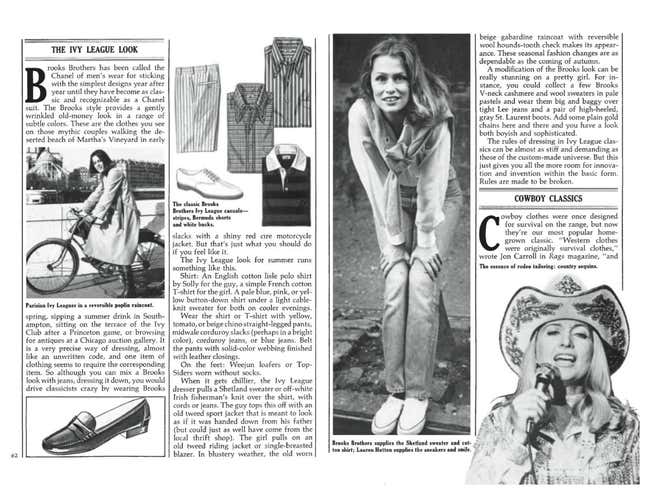 Don't skimp on accessories
"Sink your money into a very good pair of boots. Expensive European boots are a consistent favorite among snappy dressers who spend their money sparingly but buy things that last. You'll often find a pair of four-year-old St. Laurent boots making a very cheap turnout look terribly chic…

Although it's perfectly sensible to buy black or brown, some girls go out and find just one pair of the very best boots in colors like gray, red, green, or burgundy. They figure it looks like you have lots more at home. So if acid green cheers you up, why not acid green?" —the editors
"I do spend money on good jewelry—gold is warm, and platinum is class. If you live in it, you assume a certain haute, which is getting back to attitude." —Nancy Crow
Buy multiples, and wear them everyday
"A big secret is to buy things in multiples. Once you find your favorite colors, the easiest thing to do is to set up a sort of uniform of top quality: For instance, buy six mens' silk shirts when they go on sale: blue, red, black, green, maroon, turquoise, and purple. Buy two identical skirts: purple and black.

Department stores usually overbuy. If something falls into the uniform category it will probably go on sale in three weeks to a month, even at the designer boutiques. Then, if you can afford it, buy two good coats and two good jackets, since that's what you're seen in first." —Tina Bossidy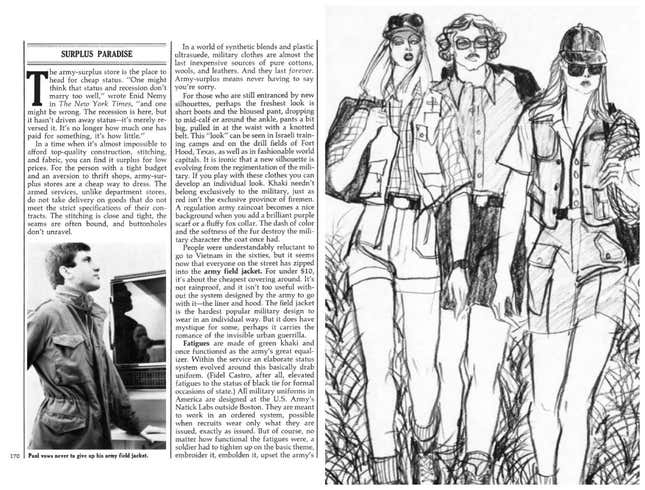 How to shop secondhand: army surplus for basics…
"In a time when it's almost impossible to afford top-quality construction, stitching, and fabric, you can find it surplus for low prices. For the person with a tight budget and an aversion to thrift shops, army-surplus stores are a cheap way to dress…In a world of synthetic blends and plastic ultrasuede, military clothes are almost the last inexpensive sources of pure cottons, wools, and leathers. And they last forever. Army-surplus means never having to say you're sorry." —the editors
…and thrift shops and flea markets for flair
"With the puffed-up prices of even moderate department store clothing, and today's shortage of natural fibers and good workmanship, it has become not only sensible but damned exciting to track down beautiful secondhand clothes…

We found an apricot, hand-sewn crepe de Chine bed jacket for $2; beautiful pure silk night-gowns with hand-stitching and hand-made lace appliqués (perfect for transferring to a t-shirt or dress if the rest of the fabric is frayed) for $3 to $10; hundreds of pairs of used jeans arranged by size for $4 or $5; Air Force flight suits for $25-$35; sailor tops, military uniforms, and safari jackets, and typically Californian standbys like kimonos, Mexican felt jackets, and Hawaiian print shirts." — the editors