Los Angeles looks lush from above: A leafy canyon checkered with faux Tuscan villas, the retro pink boxes of Hotel Bel-Air, the Pacific Ocean and Catalina Island in the distance.
This will be the daily view for residents of Park Bel Air, a new 11-acre subdivision under construction in one of L.A.'s most exclusive neighborhoods.
Only three mansions will be built here, the smallest of which has a planned footprint of 58,300 square feet. For comparison, the White House is only 55,000 square feet.
At about 59,000 feet, Park Bel Air's midsize model is already on the market for $115 million. If it sells, it will be the first nine-figure residential property sold in Los Angeles. (That is, if someone else doesn't break that record first—nearby construction is underway on another massive Bel Air compound that developers hope to sell for $500 million.)
All these megamansions are designed with a very specific market in mind: the tiny coterie of globe trotters whose greatest house-hunting problem is that nothing is big or expensive enough.
Prospective buyers interested in Park Bel Air have already been in touch from the US, Asia, and the Middle East.
"There is a distinct lack of product, of homes of this size and scale," said Barry Watts, president of developer Domvs London, to Quartz. Domvs bought the Park Bel Air land for an undisclosed sum in June 2014, with JP Morgan's investment arm Junius Real Estate Partners.
"Ten, 15 years ago, a 10,000 square foot house was considered to be a large house," he said. But today, high-net worth buyers are looking at homes starting at 30,000 or 40,000 square feet. And for the wealthiest buyers, even that might be too small.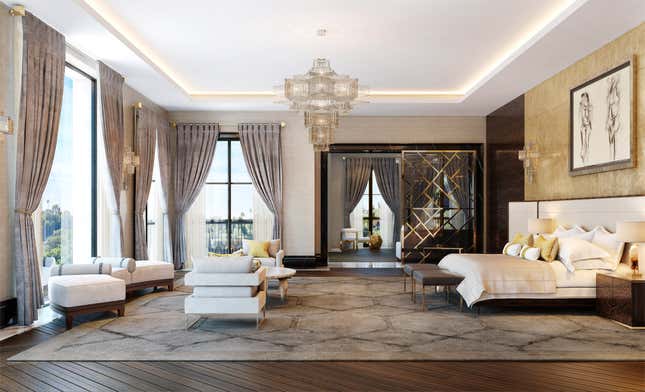 The company is selling what they call a "turnkey" experience. If the buyer chooses, the house can come completely furnished, down to the juice bar and bulletproof jewelry display cases in the dressing rooms.
In artists' renderings of the Park Bel Air mansions, each sprawling house looks more like an office park than a residential home. They have pools, underground garages, and chilled champagne storage rooms. The interiors evoke the brass-and-marble aesthetic of an expensive business hotel; they could appeal to cosmopolitan buyers from anywhere—the US, China, Russia, Qatar.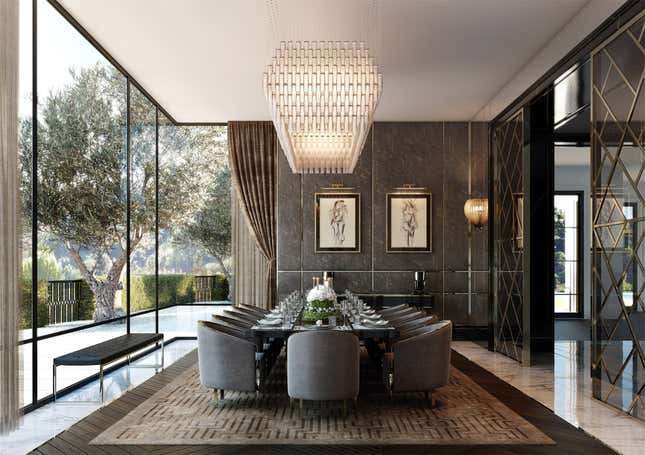 For foreign buyers, premium residential property overseas can be a lot of things: a part-time residence, a trophy, a safe place to protect assets during domestic storms.
For those motivated by the latter, the price tag may be more important than the property itself. Last year, at the height of fears of capital controls in Russia, a buyer believed to be from Russia or Ukraine paid $236 million for an unfinished London apartment.
Buyers from China have been keen to look abroad during recent turmoil in the country's stock market, with high-end realtors in Sydney, London and Vancouver receving queries. Chinese buyers bought roughly two-thirds of homes sold in Vancouver's prime districts between August 2014 and February 2015. A Bloomberg article on Park Bel Air was shared more often in China than in any other country, Watts said.
Not everyone is happy with the globalization of the world's richest neighborhoods. Shops in posh London districts have struggled as full-time resident locals sell to overseas owners who only use the houses as occasional crash pads. The growth of sprawling mega mansions in Bel Air has sparked tension between the uber-rich and the just-plain-rich.
Watts is guarded on the subject of whether the mansions of Park Bel Air will be primary homes, or primarily trophies.
"People are saying, 'I live a global life,'" he said. "They live in the home when they're there."