It's taken 155 years, but a woman has finally won Australia's biggest horse race. As the fourth woman ever to ride in the Melbourne Cup—beating odds of 100 to 1—Michelle Payne dedicated her win to female jockeys and called out the sexism she felt was rife in horse racing.
"It's such a chauvinistic sport, I know some of the owners wanted to kick me off," she said in her post-race interview. "I want to say to everyone else, get stuffed, because women can do anything and we can beat the world." Payne hopes her win will get women more opportunities to ride. "I believe that we sort of don't get enough of a go and hopefully this will help," she said.
The scale of challenge for women in male-dominated sports who "don't get enough of a go" was made clear soon after Payne's victory, when  Susie Wolff, the leading woman driver in the elite motor sport of Formula One, announced she has decided to retire because she didn't think she would get a chance to drive.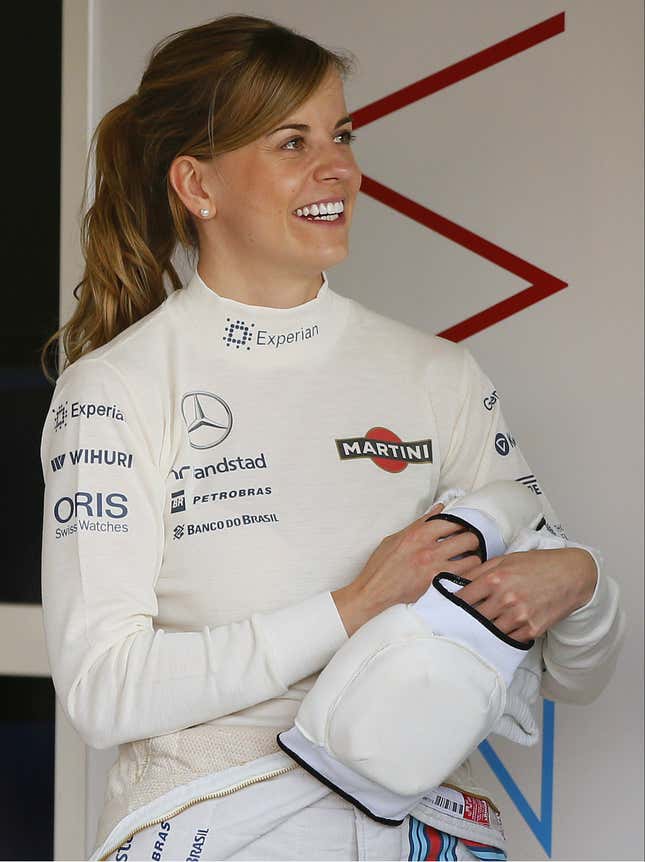 When the Williams F1 team took on Wolff as a test driver in 2012, she was as one of the first women in more than 20 years to take part in a F1 weekend. There was a slither of hope that Wolff would get to race when Williams' Valtteri Bottas was ruled out of the season-opening Australian Grand Prix after injuring his back. But Wolff was passed over as a replacement, with Williams choosing Adrian Sutil instead.
"I don't think it was the pivotal moment, but it was one of the moments where I could just see it getting harder and harder," Wolff told BBC Sport. "But I said to myself, 'Is this ever going to happen?' It was the harsh reality that the dream wasn't going to come true."
Wolff had been training since she was a child, even competing against current F1 world champion Lewis Hamilton in junior karting, but it was a lack of opportunities that prompted her resignation. If Wolffe couldn't make it, is there much hope for women in the sport?
There have been trailblazers in the past—Maria Teresa De Filippis was the first woman to compete in a F1 race in 1958, followed by fellow Italian Lella Lombardi—but not a single woman has qualified to start a race since 1976.
While Wolff believes women can compete in F1, she doesn't expect them to be making headway any time soon. "We have two issues—not enough young girls starting in karting at a young age and no clear role model," she said.
Especially now that Wolff is leaving. For now, young girls who like motor sport will have to look to horse-racing instead.