China's on another resources binge. Fresh off the success of Cnooc's acquisition of Canada's Nexen, Citic Resources and its parent, Citic Group, are taking a 13% stake in Australia's Alumina for $468 million. This is the latest in China's overseas acquisition spree. In 2012, Chinese companies announced just more than $60 billion in mining and energy purchases, if you include the Nexen acqusition, reports Bloomberg.
Citic got a good price on the deal (paywall), about 3% above the previous day's share-price close. Low aluminum prices, a strong Australian dollar and heavy debt had made times hard for Alumina for a while.
But there might be obstacles to the Chinese firm's buying a larger stake. Alcoa, the US's biggest aluminum producer, is supposedly considering buying Alumina itself (the two jointly own a bunch of mines and refineries for bauxite, or aluminum ore). Citic could block that bid by taking a bigger stake, but only after a two-year standstill clause expires.
Then there's China's track record with similar deals. Since Chinese authorities first began pushing the "going out" overseas investment initiative in 2003, state-owned enterprises (SOEs) have flocked to the subterranean promise of Oz. Often they have overpaid dearly—so dearly that, last year, the Chinese government issued new rules holding SOE executives accountable for bad investments (yes, shockingly, they hadn't been before). This came after two Australian investment projects—the $7-billion Citic Pacific Sino Iron projects and the $2-billion Sinosteel Midwest development—went way south.
But Chinese deal-making folly aside, the strategic drive to amass commodity supply doesn't always make sound business sense. China's size—it consumes 40% of the world's aluminum and produces 35% (pdf, p.10)—means it disproportionately influences prices. So buying up bauxite is a long bet on the continuing boom of Chinese growth (see charts below). And such bets can go bad: witness China's iron ore project investments, overspending just before prices plummeted.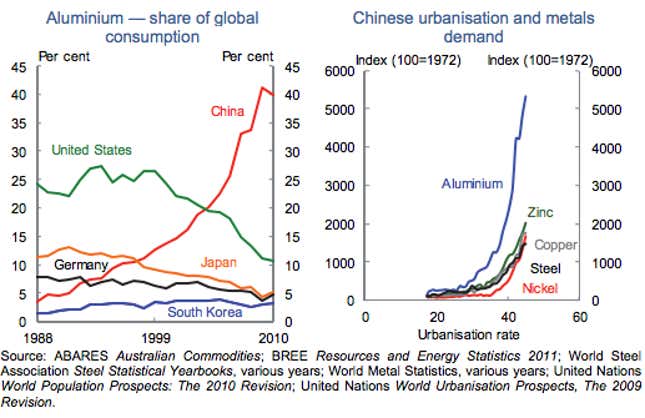 But if China's economic growth does slow further, as it did last year, stockpiling could mean paying up front for resources just as prices are falling.
So if panic about cornering global bauxite supply is behind Citic's bid for Alumina, it means it's probably a bad idea. However, the relationship may allow Citic Resources to master efficient refining technology—much the way the Nexen acquisition may help Cnooc to develop deep-water drilling. If that's the case, China's "going out" strategy may finally have turned a corner into generating prudent returns on investment.