Bitcoin has been on an absolute tear since mid-October, and gained more than 20% today (Nov. 4) alone. At one point, it hit a yearly high of more than $491.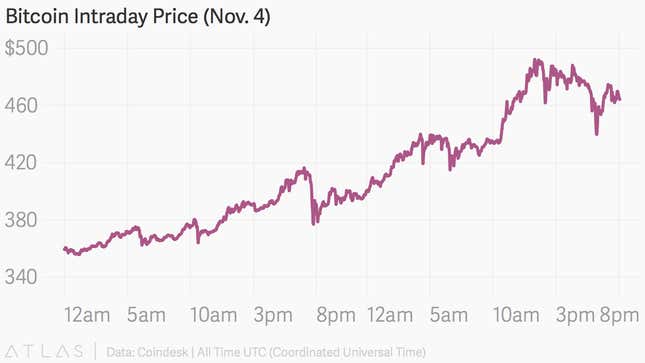 In August, bitcoin fell to a low for 2015 amid turmoil in the Chinese stock markets. It's been a completely different story since the fall.
It's not entirely clear what's driven the most recent swing, but most bitcoin watchers once again point to China, which has been devaluing its currency, the yuan, throughout the year. Bitcoin is an easy way for people to swap out of yuan, and Goldman Sachs analysts estimated earlier this year that 80% of bitcoin volume is exchanged in and out of the Chinese yuan. 
Bitcoin transaction volume has similarly been growing. And ARK Invest, an investment fund with positions in bitcoin, notes that the number of unique bitcoin wallet addresses—which are how users manage and trade bitcoin—are at an all-time. There's nothing to prevent someone from having multiple bitcoin addresses, but such a spike suggests there are new users as well.