To test out its new wireless MW60 headphones, Master & Dynamic thought it would be a good idea to take a group of reporters up in helicopters for a ride around New York City. Although the headphones aren't noise-canceling—they're "noise-isolating"—CEO Jonathan Levine told Quartz he wanted to show off the headphones in dramatic fashion. "It's a launch, so we're launching you," he said.
As we sat waiting at the 34th Street heliport to be flown around Manhattan, it became apparent that Master & Dynamic knows its target demographic. A few older men in suits, waiting for their private helicopters to take them back to their estates or out to the Hamptons—or wherever one flies a helicopter to from New York—looked on with interest at the headphone displays set up in the waiting area. And they will probably be the only people who won't think much of the asking price for the MW60s: The headphones cost $549, but if you purchase the aluminum Zero Halliburton case the company designed for the headphones, you'll be looking at a grand total of $850.
As ridiculous as that price seems to a non-audiophile—you'd be able to buy two pairs of Beats Studio or Bose SoundLink wireless headphones for that price—there's something enticing about these headphones. When you put them on, you can immediately notice how much deeper and lush whatever you're listening to sounds, especially compared with cheaper headphones or, heaven forbid, iPhone earbuds. There's a real warmth in the sound that Levine said makes it perfect for listening to his favorite artists, like Warren Zevon and Elvis Costello, but even when tested out on music from this century, the headphones still sound great. Drums sound like real instruments, beats aren't muddied, and it feels like you're in the room with the band.
Master & Dynamic's headphones, Levine said, are partially inspired by the style of old military radio-operator headphones—adding to the aviation theme—and they definitely have a military-grade feel and an imposing look. The headphones are made of steel and aluminum, and pair we tried out were gunmetal grey. The MW60s last about 15 hours on one charge, but they can still be used with an included cable if they die. However, they get noticeably heavy after a few hours' of use, even with the lambskin-leather ear pads.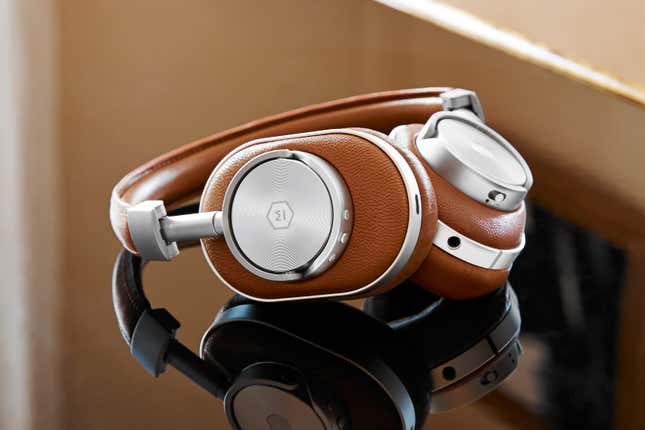 While these headphones are wireless—and work wonderfully streaming from a mobile, even with other Bluetooth devices attached to the same phone—they actually work best when you don't need to move anywhere. Their weight, size, and the fact that they don't sit comfortably around your neck when you take them off, mean they won't make a great addition to your morning commute. But when working on a computer, or sitting on a plane, they'd be perfect. And there's no chance that you'll get up and forget you're connected to something else and drag it away with you.
That being said, the headphones are not without issues. The built-in controls only work wirelessly—if the MW60s run out of charge, you'll need to use your phone to control your music or answer a call. And if you want to charge the MW60s and listen to music at the same time, you'll have a cable sticking out of each ear cup, and in my testing, I found there to be a loud buzz in the background while charging. An easy solution to these problems: Buy the $150 cheaper MH40 wired headphones.
But unless you actually bought the helicopter you commute on and can purchase the most expensive headphones of the year, Master & Dynamic's new headphones might be worth upgrading to if you're after wireless cans. The MW60s go on sale Nov. 9, at which point you'll be able to look like your other car is a helicopter, and have the sound quality to match.