It's unlikely that grunge legend Kurt Cobain had premonitions of fashion immortality when he pulled on a fuzzy, pea soup-colored cardigan before recording Nirvana's MTV Unplugged in New York. 
That was 22 years ago, and now said sweater is being auctioned along with rock memorabilia from artists including Michael Jackson and Elvis Presley. None of those items—not Madonna's pink-sequined platforms nor James Brown's leisure suit—has left such an indelible mark on American fashion as Cobain's unassuming cardigan.
From the listing: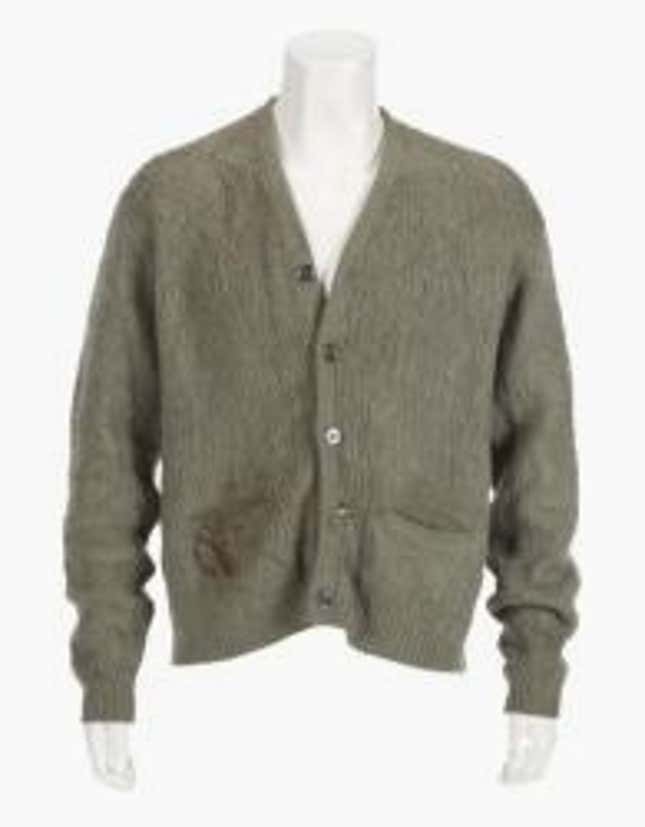 "The Manhattan brand sweater is a blend of acrylic, mohair and Lycra with five-button closure (one button absent), with two exterior pockets, a burn hole and discoloration near left pocket and discoloration on right pocket, size medium."
An acrylic sweater with a burn hole and a missing button may not sound like much, but in addition to its significance as a piece of rock music ephemera, it's a relic of fashion history.
Grunge, after all, was a cultural movement not limited to music. Grunge was also one of the rare seismic shifts in American fashion of the last few decades, and Cobain's no-name cardigans were no less important to the look than Marc Jacobs' Spring 1993 collection for Perry Ellis (which simultaneously defined the aesthetic for the mainstream and got the designer fired).
At its current going price of $42,500, Cobain's sweater might be considered a bargain for the Costume Institute or the Rock & Roll Hall of Fame—or a splurge for a nostalgic fan in constant search of that perfect Kurt Cobain cardigan.
It would look nice with a slip dress.