As Myanmar heads to the polls for its first genuine (let's hope) general election in 25 years, the mood is electric in Yangon, the nation's former capital and still-largest city. This Sunday represents many citizens' first chance to take part in a nationwide democratic event. (This is less true if you're Muslim, more on that here.)
Many warn the process will be flawed, and voting will be closely watched by many nations to determine how they engage with the country in the future.
Outside observers seeking a window into Myanmar's troubled past should look no further than Yangon's rich architectural heritage. Visitors may find some buildings stunning, others more ominous—but all are meaningful.
Yangon became the country's center of gravity during the reign of the British, who took over in 1852. The country gained independence in 1948 and, following a military coup in 1962, embarked on a path to isolation (and eventual pariah status by the '80s) until 2011.
The city still bears the marks of the country's long isolation: With little economic development for several decades, its streets offer centuries of history told through untouched bricks, mortar, concrete—and a fair bit of gold.
Let's take a look.
Shwedagon Pagoda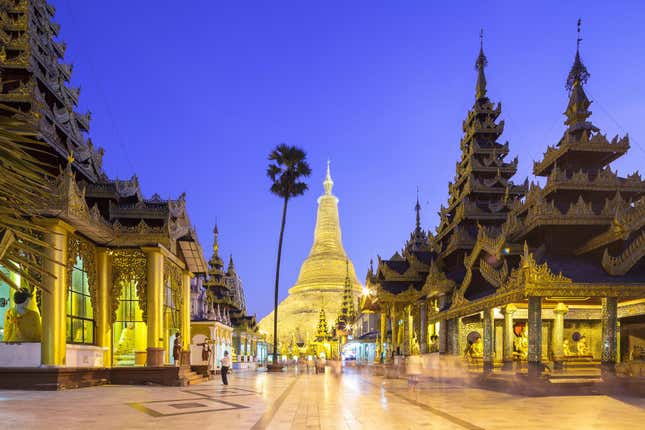 Likely built in the sixth century, this 99-meter, gold-covered stupa graces Yangon's skyline and gleams from many parts of town. (In local folklore, the Shwedagon was actually built in 600 BC.)
It was built by the Mon people, who reside in the present-day state of Mon in southeast Myanmar, and founded a fishing village here called Dagon during this period. Today the Shwedagon (shwe means gold) acts as the spiritual heart for Myanmar's majority-Buddhist population.
The first known Englishman to lay eyes on it was a merchant named Ralph Fitch in 1597. He called it "the fairest place, I suppose, that is in the world." (He added more snidely that if the locals "did not consume their golde in these vanities, it would be very plentifull and cheape.")
Traders from the British East India Company started visiting in the 17th century, as did Armenian traders.
In the 1750s, Burmese king Alaungpaya captured, united and ruled a string of territories in the region—including Dagon. This consolidated some of the territories of present-day Myanmar. King Alaungpaya renamed the town Yangon ("the end of strife"). It remained a small town until British colonization.
When the British conquered Myanmar in the 19th century, they made Yangon their capital and drained its swampy shores to create a major port city. They used the outskirts of the Shwedagon to build their military HQ—a dagger through the heart of Burmese pride to this day.
The Secretariat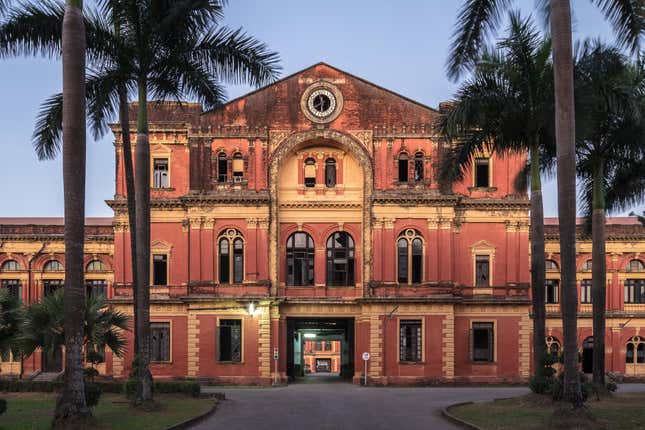 Built between 1889 and 1905, the Secretariat epitomized British rule over Myanmar (then Burma).
Inspired by trends from Calcutta, architect Henry Hoyne-Fox spared no effort in sourcing the best materials: Steel beams were imported from England, and the terra cotta roof tiles are from Marseilles (France).
The building also symbolizes Myanmar's post-colonial struggles: The nationalist hero, General Aung San, was murdered here by opponents only months before the country's independence in January 1948.
After the military coup in 1962, the Secretariat was declared off limits to the public and its perimeter wrapped in barbed wire.
While there are plans to reopen it today, the building's glowing red bricks retain their intrigue and forbidding aura.
Tripitaka Library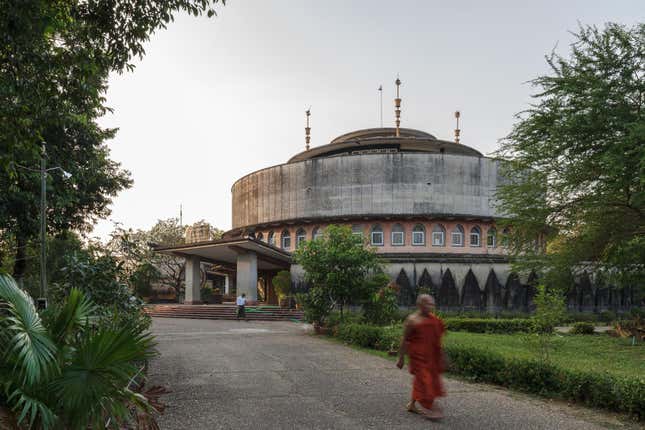 Built in the '50s, this magical building is tucked away from Yangon's hustle and bustle. It recounts the days of a young nation that was looking to the future. Sitting behind a fence and overgrown grass, it's easy to miss it nowadays.
The country's first post-independence prime minister, U Nu, convened a major Buddhist synod for 2,500 monks from across Asia—a legacy-shaping effort for him, and a big deal at the time for the country's standing on the regional stage.
This library belongs to the synod's purpose-built complex, the Kaba Aye ("world peace") pagoda.
An American architect, Benjamin Polk, designed it. He borrowed heavily from Buddhist symbolism; note the concrete lotus flowers everywhere. He also brought his modern leanings with him, evident in the stylish cantilevers and the unmistakably 50s feel of this reinforced concrete building.
U Nu was putsched out of power by General Ne Win in 1962, just a year after he inaugurated the library. The military dictatorship was to rule Myanmar for decades, and still does. Could this Sunday's election be a turning point?
Drugs Elimination Museum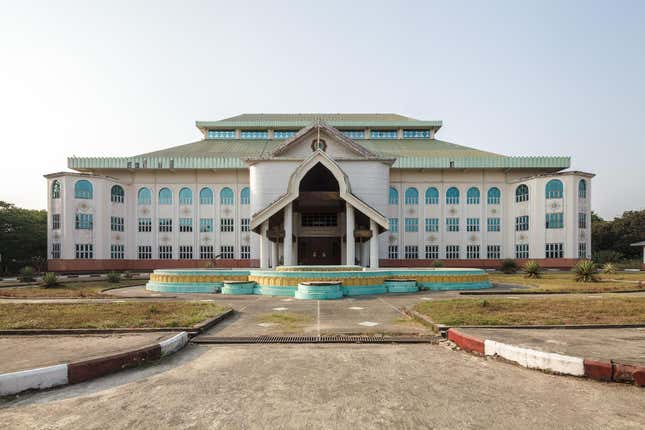 Let's be clear: This building is insane.
It's a fine irony that the military junta that formally governed Myanmar from 1962 to 2010 decided to build an entire museum to one of their stated achievements, eradicating the drugs trade (a totally specious claim, by the way)—while whoever commissioned this building was (you might think) not 100% clear in the head.
This enormous building contains vague allusions to pagoda architecture, especially the tiered roof design and the canopy—although bizarrely, this one is upheld by Roman Doric columns.
This austere, monolithic interpretation of graceful Buddhist architecture was a feature of the military's design tastes.
The inside features a mix of base propaganda and obscene papier-mâché dioramas depicting people in various stages of addiction.
In one display, a huge floating hand clutches a bunch of pills (and a cigarette, if I recall) while a syringe sticks out of its wrist.
The museum was built on top of a large local cemetery, adding insult to injury. (So to speak.)
Pyidaungsu Hluttaw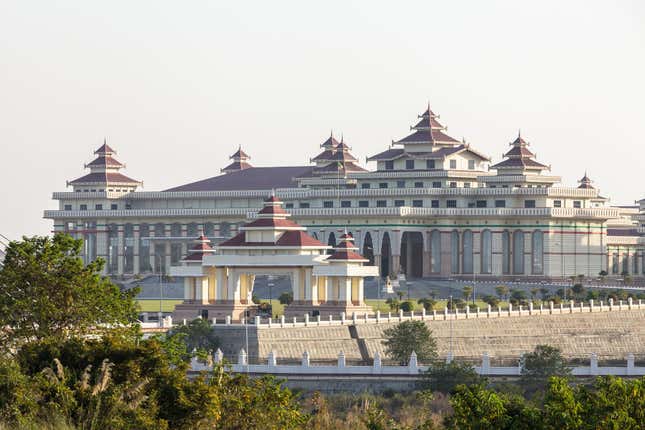 This building, the country's parliament, is not in Yangon but in the country's new seat of power, Naypyidaw.
The divvying-up of parliamentary seats inside these walls is the prize of Sunday's election.
A word on Naypyidaw: In 2005, the military junta packed the Yangon-based administration into trucks and moved everything to this baffling new capital—a loose collection of cavernous complexes and ghostly hotels linked by ten-lane highways.
(The whole thing cost a horrifying $4 billion to $5 billion, despite Myanmar being one of Asia's poorest countries.)
Star City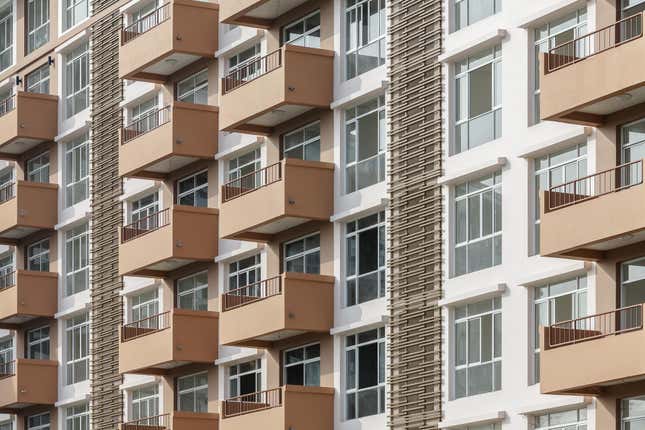 A few years ago, the government said it wanted to end decades of isolation from the West and "re-open" the country.
Yangon is booming as a result, such that Myanmar is officially no longer the worst place in the world to start a business.
The upcoming elections belong to this opening effort—as do modern, nondescript buildings such as the Star City complex, suggesting a radically uncertain future for Yangon. Cranes are everywhere. Expats seem to swell in number each month.
Yangon's previous decades of isolation left it with now precious heritage that beckon costly upkeep. The temptation to build quick, identikit blocks such as this one is understandable.
The future of Yangon, under the weight of a heavy history and now major commercial pressures, hangs somewhere in the balance.
The city's streets have seen their share of historic moments, from the 8888 uprisings to the 2007 Saffron Revolution—and many buildings are still there, for now at least, to remind everyone.
Elliott Fox (@ejlfox) is co-author (with Ben Bansal and Manuel Oka) of Architectural Guide Yangon, the first comprehensive guide to 110 buildings of Yangon. It was published by DOM publishers in October 2015 and can be ordered here.