What's cooler than $50 million? $1 billion.
Today (Nov. 6), Toyota announced that it's setting up a new company, Toyota Research Institute, that will focus on research into artificial intelligence and robotics. The company plans on investing $1 billion into the research arm over the next five years.
This news comes about two months after Toyota said it would invest $50 million into a partnership with MIT and Stanford universities, which was to be led by Gill Pratt, the former director of the DARPA Robotics Challenge. Now it appears Toyota wants more from the relationship.
Under the latest initiative, Toyota will set up two new research facilities near Stanford and MIT's campuses, according to a release, and the new company will be overseen by Pratt, who plans to bring in a fresh crop of "leading researchers and engineers."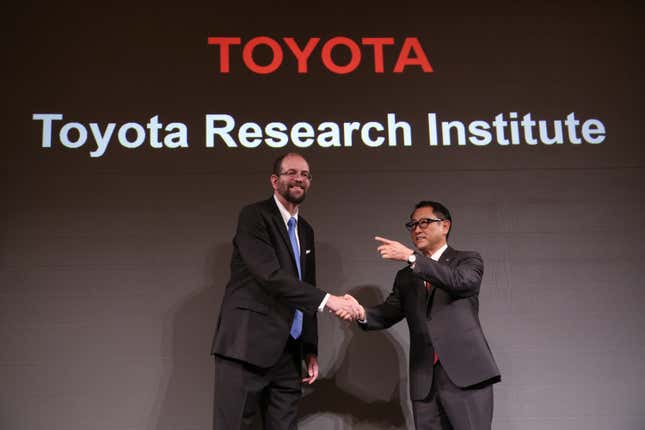 For years, Toyota has been working on a range of robots, ostensibly to improve the quality of life of humans in hospitals, senior care facilities, or even at home.
Pratt said in the release that the goals of his team's research will initially be focused around improving rider safety and accessibility in cars—building on the driver assist programs, like lane and parking assist technology, that are becoming commonplace in new vehicles. But considering the talent Toyota has already brought on board—including Pratt, Fei-Fei Li, Stanford's Computer Vision Lab director, and Daniela Rus, the director of MIT's artificial intelligence lab—it's likely that Toyota also has grander visions.
Silicon Valley is brimming with companies exploring the intersection between driving and autonomous robots. Google has its robotics division in Boston Dynamics, and is already testing out self-driving cars on California's streets. Down the road, Delphi Automotive is also working on self-driving cars, and Tesla Motors recently sent out an "autopilot" semi-autonomous driving program out to over 40,000 of its cars.
Toyota has also already begun work on its own self-driving cars, and has said it plans to have them on the road by 2020 (paywall). Self-driving cars seem to be a long-term goal of many companies, and Toyota's investment seems to show that it's serious about attaining that. It remains to be seen if this investment will help Toyota overtake its competitors, but it's definitely going to make the company's roadmap a little clearer.