As bad weather threatens to make the crossing from Turkey riskier and conditions in Middle Eastern refugee camps deteriorate, refugees—mostly Syrians, Afghans and Iraqis—continue the rush to reach Europe, lured by smugglers' "discounts." According to a Nov. 5 press release, the Office of the United Nations High Commissioner for Refugees anticipates as many as 5,000 people arriving in Greece everyday from now until February 2016, despite the harsh winter conditions.
Two weeks ago, the Greek coast guard rescued 242 people in the waters off the island of Lesbos, between Greece and Turkey, when their boat capsized. Majd, a 12-year-old boy traveling alone, was on that boat. Bassam, 50, was on it too—and he lost his daughter Ghazal that night. For days after the boat went down, bodies continued to wash ashore. These are the stories of the survivors, the smuggler, and a Greek volunteer who took Majd under her wing.
Bassam, 50, survivor from Latakia, Syria:
We left Bodrum around 11 PM. We were 180, even though the smuggler told us that we would be 75. However, the sea was calm and we thought everything will be fine.

Around 12:30AM, the Turkish coast guard started to follow us. We begged the captain to stop, but he didn't. He was afraid of getting caught.

Our boat capsized because of the chaos. People were moving and they didn't stay in their places. The coast guard scared us.

I saw my daughter, 9 years old, drowning next to me and I couldn't do anything. I felt helpless.
Her mother, my wife, is not even able to speak. She hasn't said a word since the accident.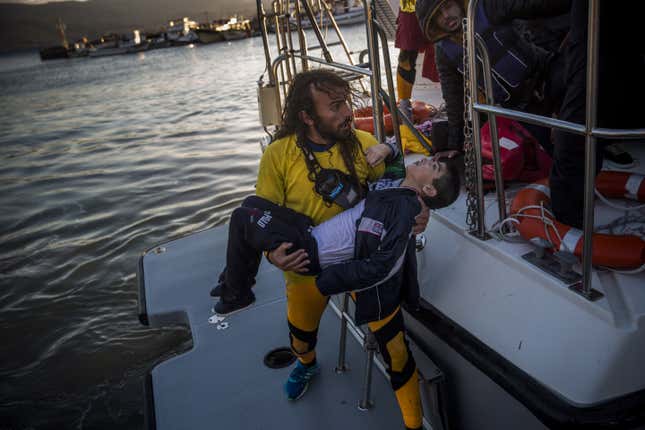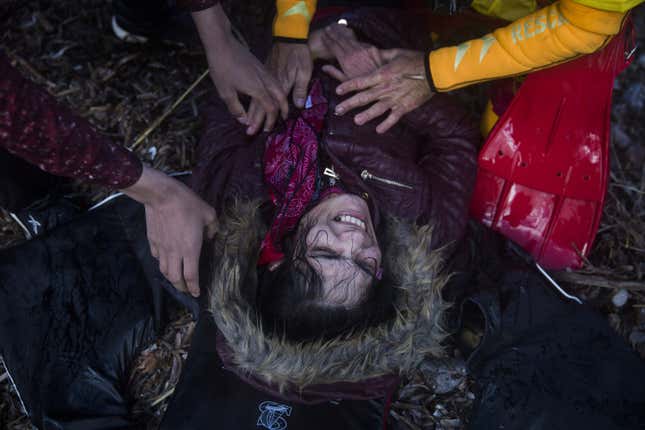 Majd, 12, survivor from Latakia, Syria:
When the boat capsized, I kept kicking in the water and clung to an old man's leg. He was pushing me away, but I didn't let go of him.
I remember seeing the Greek coast guard crying while rescuing people.
Nina, volunteer from Lesbos, Greece: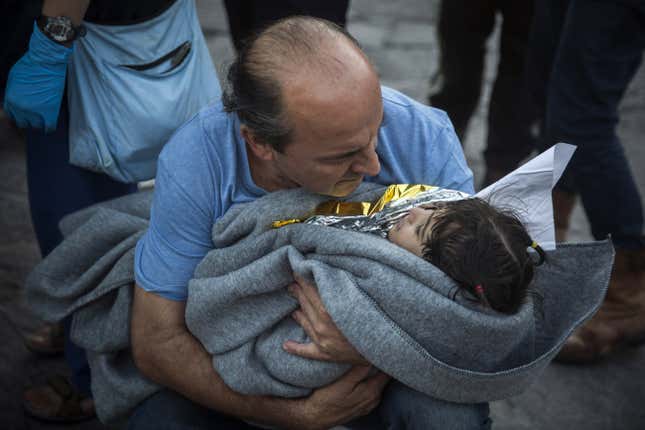 On Wednesday night, we got the first call around 12PM. Greek authorities asked us to go to the beach and wait for migrants.
More than 150 migrants reached the island that night. People were terrified and devastated.

What hurt me the most was the small bodies. Many children drowned that night.
Parents were praising and hugging their children, except Majd. When I first saw him by himself, I knew something was wrong.
I tried to speak to him but he didn't speak English. I figured out later that he was with a family on the boat, but not his family.
He was terrified and speechless. I couldn't ask him anything about the accident. I didn't want him to cry more.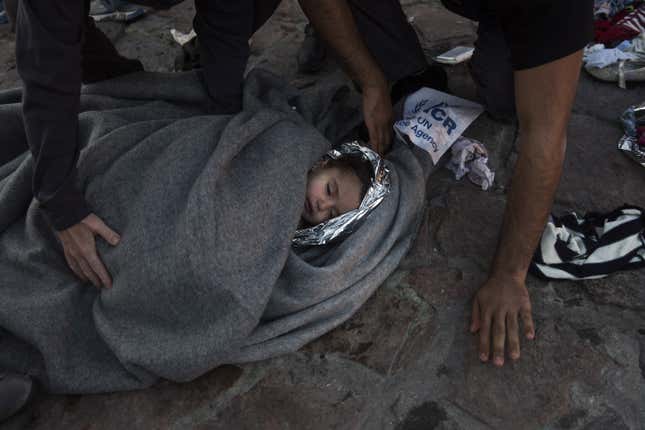 Abu Hussain, a smuggler from Latakia, Syria.
Quartz: Isn't is dangerous to send boats in this weather?

AH: The trips don't stop, even in wintertime. People are desperate to leave, and ready to pay everything they have.
On that trip, there were six Syrians coming from Dubai. They arrived in Izmir [a coastal city in Turkey] 10 days ago, and they called me every single day. They were desperate to leave.

They paid 1,600 euros each, but I am only taking 1,000 Euro. I am sending them their money back after what happened.

Quartz: What about you? Do you have a family?

Him: Yes I do, but I will never send my family in such way!