US president Barack Obama just squashed a politics-riven, seven-year quest by Transcanada to build a 1,100-mile pipeline and ship hundreds of thousands of barrels of oil every day through the US to the global market.
Obama all but explicitly conceded that, after so many years of study, his decision to reject construction of the Keystone XL Pipeline is a symbolic one. Huge volumes of oil from the Alberta oil sands will continue to be shipped and consumed. In addition, if Republicans win the White House in 2016, they are likely to reverse the decision.
But Obama cast the symbolism as vital. He said that the US has now cut its CO2 emissions more than any nation on Earth—it's still the second-largest emitter, after China—and is now "leading on climate change."
"Frankly," he added, if Keystone proceeded, it "would have undercut that global leadership."
Obama was referring to his hopes for a global meeting on Nov. 30 in Paris, where world leaders will attempt to reach an agreement on binding cuts in greenhouse gas emissions.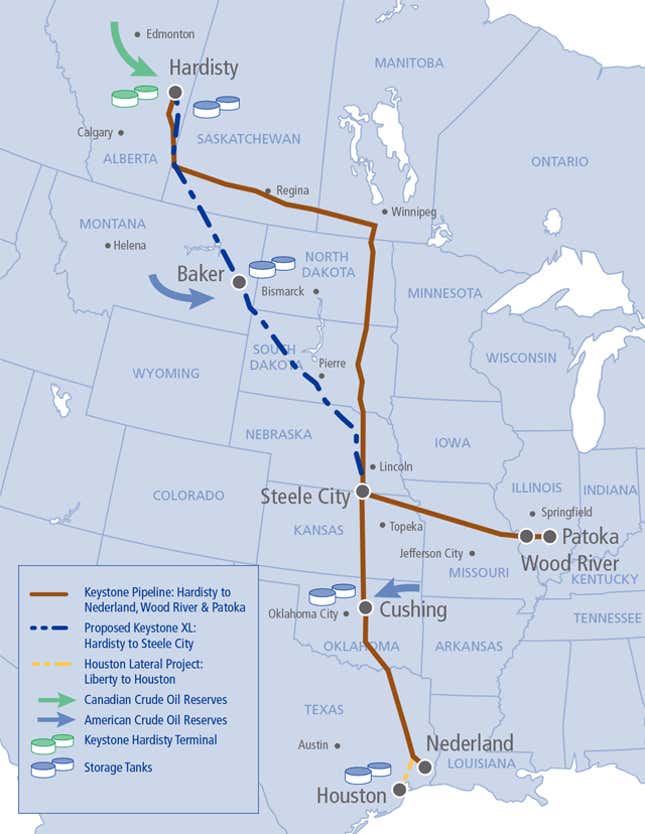 The Keystone decision represents a clear victory for American environmentalists who had framed the pipeline in apocalyptic terms. If it were built, said James Hansen, a prominent climate change scientist formerly of NASA, it would be "game over for the climate." Celebrities such as actress Darryl Hannah (pictured above) set themselves up for arrest in front of the White House in anti-Keystone protests.
Yet in a big way, Keystone is an old story: the oil, rail and pipeline industries built work-arounds more than a year ago to ship almost all the 830,000 barrels a day of oil that Keystone was meant to handle.
Its demise was always going to be, at best, an important token: Blocking the pipeline does not attempt to reduce fossil-fuel consumption, only its transportation. That will only happen when more public, political and economic forces get behind the optimization of alternative, cleaner ways to propel the voracious global economy, such as safer nuclear power and cheaper batteries.