As winter approaches, residents in North China are enjoying subsidized central heating at their homes. In return, they inhale more toxic air when they go outdoors.
The haze in China's northeastern regions began last Saturday (Nov. 7) and is continuing amid the kick off of a government-provided central heating. The air quality index (AQI) for fine particulate known as PM 2.5 exceeded 200—a level considered "very unhealthy" by the US EPA—in 13 of the 14 cities in Liaoning province on Nov. 8, according to the Liaoning environmental protection department (link in Chinese). Among them, eight cities including the provincial capital Shenyang had an AQI of 500, the outer limit of the "hazardous" level and the top of the index, indicating that the pollution was probably much higher. The reading of Shengyang's AQI was still "hazardous" at 7am Hong Kong time on Nov. 10, according to air quality monitors, and its levels of small and large particulate matter had maxed out:

At one time on Nov. 8, PM 2.5 in Shenyang was as high as 1,400 micrograms per cubic meter, the state Xinhua News Agency reported (link in Chinese), 56 times the recommended limit by the World Health Organization. In case you'd like to get a real sense of living in such a huge gray-out, here are some photos from Twitter-like Sina Weibo (links in Chinese, registration required in the following) in Northeastern China in recent days.
"My feeling is today will be a remarkable day in Shenyang's history!," a blogger from Shenyang joked on the morning of Nov. 8, while posting a photo of the outlines of the city's skyscrapers (the 2010 on the photo refers to his Weibo handle, not the year it was taken):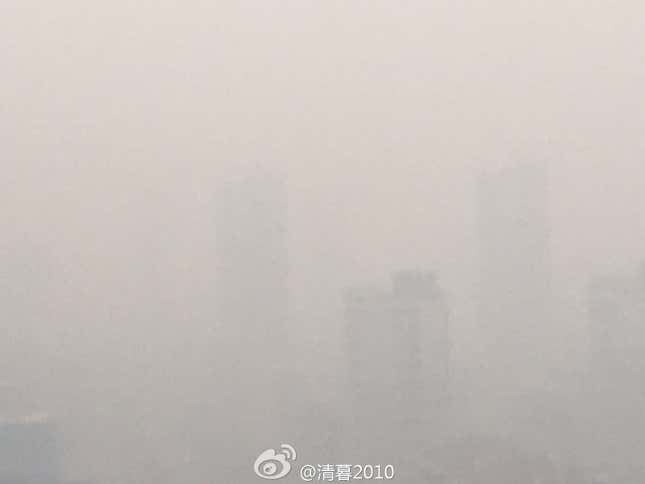 "Five characters floating in the air," a blogger from northeastern Jilin province's Changchun city wrote on Nov. 8, posting a picture of a shining sign from a dumpling place, floating in the smog: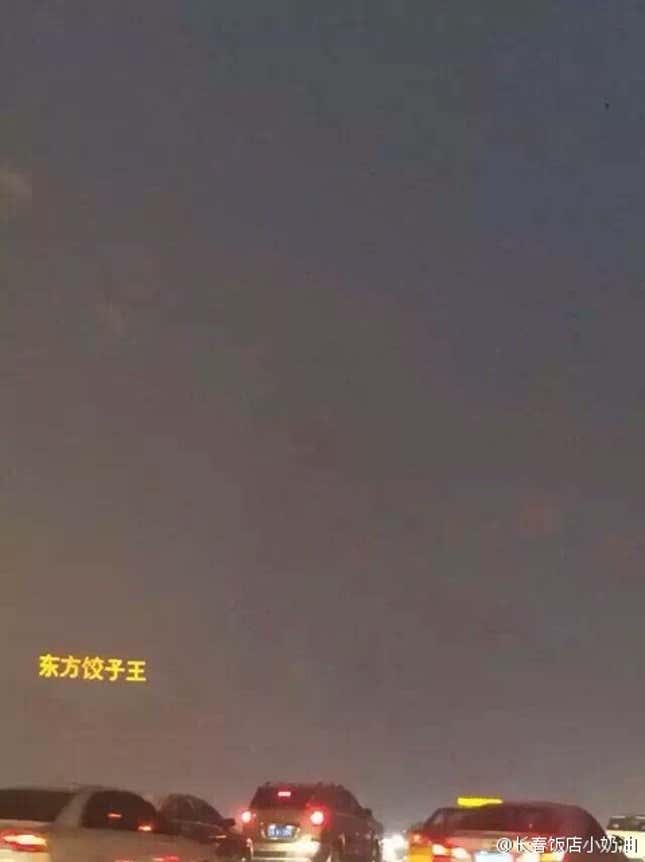 Xinhua took the unusual step of criticizing Shenyang officials. Restrictions on cars should have been issued; and orders to close the construction sites do have been issued. A doctor at a local hospital told Xinhua the hospital was full, after patients in the respiratory department surged to over 35% of the total patients. One local resident told Xinhua all the anti-haze masks had been sold out.
Environmental experts believe (link in Chinese) a lack of wind and annual straw burning—a tradition of Chinese farmers to fertilize their farmlands after the autumn harvest (it was banned but still thrives)—contributes to the smoggy weather. But North China's central heating probably has more to do with the situation.
China's more than six-decade long government-subsidized central heating system only provides heat to the homes in the north—more specifically, north of a dividing line that traces Huai River and Qinling Mountain near the latitude 33 degrees north, where temperatures fall far below freezing in the winter. The central heating is largely powered by coal—around 168 million metric tons in 2010. As a study published in May 2013 showed, particulate matter in air north of Huai River is 55% higher than in the south—and life expectancy 5.5 years shorter.
China is on a slow transition from coal-powered heating to natural gas. So far this year, Beijing has eliminated coal-fired boilers that can originally provide 5,900 metric tons of vapor per hour (link in Chinese). But whether that will translate into cleaner skies won't be known until the capital starts central heating on Nov. 15.
Despite the toxic haze, Chinese people still want central heating in the South, due to the unbearable winter cold, as a People's Daily opinion poll shows. Such a proposal went to China's rubber-stamp parliament in 2012, and was widely opposed considering the huge investment of labor and money. Jiang Yi, a building energy research expert at Tsinghua University, said China would need to burn an extra 50 million metric tons of coal each year to provide central heating to all urban residents in the south.
Southern Chinese should ask themselves: Does trading heat for toxic fumes sound like a fair deal?