Tokyo
As Tokyo prepares to host the 2020 Olympics, one of its more interesting infrastructure design projects is to make a part of town feel more like… Paris.
The Japanese capital is embarking on what it is calling the Champs-Élysées Project—named after the famous tree-lined Parisian shopping boulevard—aimed at "generating vibrancy and revitalizing communities through such measures as opening outdoor cafés on wide sidewalks."
The first street that's getting the treatment is a new section of Loop Road No. 2, which connects the Toranomon neighborhood—home to many government buildings and a newish skyscraper, Toranomon Hills—and the Shinbashi station area. It's also a road that could play a key role in transit during the Olympics.
There's not much to see yet. Today, it's a boulevard with unusually wide sidewalks and bike lanes, both partially blocked by construction material.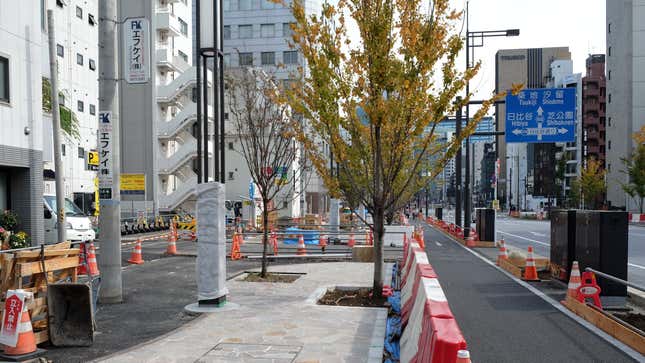 The plan is to add a faux-cobbled sidewalk down this stretch of the road—a nod to Paris, bien sûr—and to make it easier for new businesses to establish sidewalk cafés and restaurants. (This was previously rather complicated, according to the Japan Times.) One such place, the Good Morning Café, has already opened, serving curry and burgers under an awning and umbrellas. But the rest of the stretch is still mostly dull, traditional buildings.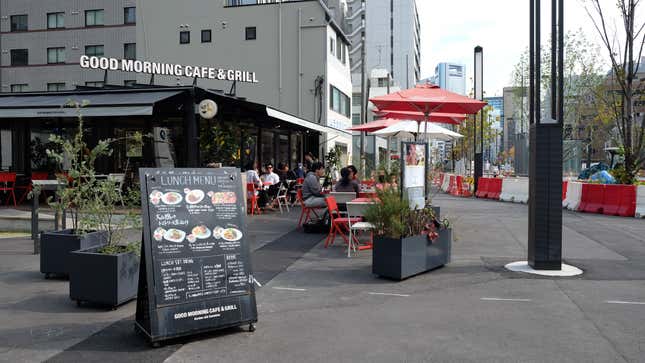 That, too, should change. Mori Building, the real estate company behind Toranomon Hills and other impressive, city-within-a-city developments in Tokyo, has more plans for the area. The company stands to benefit if the Champs-Élysées project succeeds in creating a new hotspot.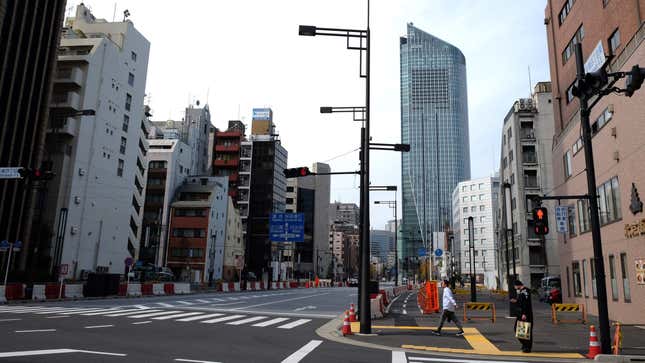 The bigger question is whether you can manufacture charm. It's one thing to allow sidewalk cafés in a previously boring neighborhood. It's another for the je ne sais quoi to develop that gets people excited and attracts interesting cafés, shops, and people. Tokyo already has a couple of shopping streets that feel closer to the actual Champs, notably a stretch of the Omotesando area where Apple opened its nicest Tokyo store last year.
But it's worth a shot. The idea of being able to enjoy a coffee outside in the city where you're least likely to be harassed—or robbed—seems worth it alone.