Weeks ahead of today's massive online shopping event in China, Australian parents who use a homegrown organic baby formula called Bellamy's started to notice that local stores where running out of the company's products.
Bellamy's blamed China's "Singles Day," as the online shopping phenomenon is known. It said some buyers were snapping up its products in bulk from retail outlets in Australia, and stock-piling them to sell through third party vendors online.
Because of the Chinese shopping  day, "supermarket shelves in Australia are being wiped out," Bellamy's chief executive Laura McBain told Fairfax Media in an article published Nov. 8. "We didn't anticipate we'd have a situation where mums couldn't access our products," she said.
Singles Day was already the world's largest online shopping event before this year's record-smashing sales: about $12 billion of merchandise is expected to be sold on  E-commerce giant Alibaba's T-mall and Taobao shopping sites before midnight tonight in Beijing.
Bellamy's has been bombarded with complaints from Australian parents on its Facebook page in recent weeks, who buy its milk formula because they say it is better for babies with digestion problems, or healthier in general:
"I am outraged because I now have a little one who won't sleep" because she is "vomiting like crazy" from gastroesophageal reflux disease, one mother from Melbourne wrote. Because of this "China crap," she wrote, her baby is "screaming the house down and won't sleep." Bellamy's is going to lose a lot of Australian customers, she warns. 
To the hundreds of complaints, Bellamy's has with a nearly-identical answer: "We have encountered significant activity by some people who like to buy our product here from Australian retailers and on-sell it to consumers in China."
But Bellamy's itself participated in "Singles Day," by offering steep discounts on its products in China. The company's official site on Alibaba's T-Mall shows that thousands of cans of formula varieties that Australian parents say they can't get were sold in China in the past month, like this "Follow On" stage 2 formula, that's sold more than 2,900 cans in the past month: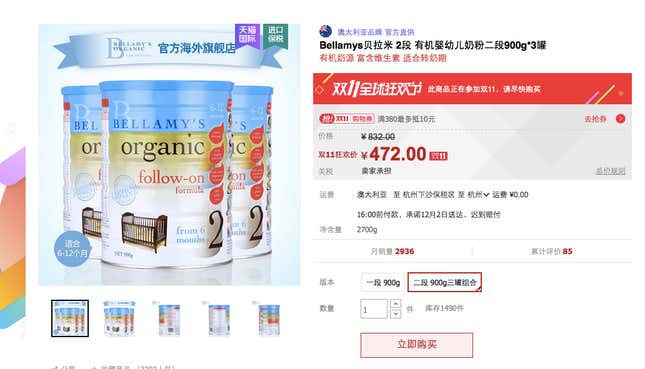 There are still 1,490 cans of the formula in stock, Bellamy's T-mall site says, even as increasingly irate Australian complain of shortages in their local stores.
Bellamy's has not responded to requests for comment. But the situation highlights the difficult task ahead for some foreign companies that want to do business in China, while satisfying customers at home. Increasing Chinese consumer demand, and growing the country's already enormous middle class, is part of the ruling Communist Party's long-term goals—and niche, high-demand companies like Bellamy's may need to choose between making their local customers happy or satisfying China's massive market.
The organic baby product company was founded by the Bellamy family in Tasmania, and has about 30 employees. About a third of its products sold in Australia are resold in China, the company estimates. Foreign milk formula is particularly treasured in China, after tainted local formula sickened an estimated 300,000 babies and killed six in 2008.
Formula makers in Australia say they've been trying to get retailers to limit the number of tins of formula that individuals can buy, just like in Hong Kong, but without success.
Some Bellamy's customers in Australia are already finding alternatives. "We've swapped to Nan Gold Toddler & won't be looking back!!!," one mother wrote. "Other Mums—My bub has had no changeover issues & tonight she had a 350ml bottle!!"