Forget what you think an office looks like.
Only a few years ago, Google seemed to hold the monopoly on outrageously cool offices and amenities. Today, more companies—both start-ups and big corporations—are investing in beautiful and inventive spaces for their employees. Sad foosball tables have been replaced by outrageous office slides, art installations and cozy cabanas.
"Now that we can work anywhere, offices have taken a more social dimension," says William Hanley, editorial director of new social network Kontor, to Quartz. Kontor (named for the Danish word for "office"), is dedicated to commercial workplace design. It provides insider access to stunning corporate headquarters around the world, and shows you how to get the same look in your own workspace.
For Kontor's launch on Nov. 11, 350 top design firms and furniture manufacturers like Herman Miller and Knoll were invited to contribute content for the site. Like on Pinterest, you can search Kontor for different kinds of real-life spaces, and there is a sharing component. But unlike Pinterest, where anything at all can be pinned, these offices are curated for quality control, says Hanley.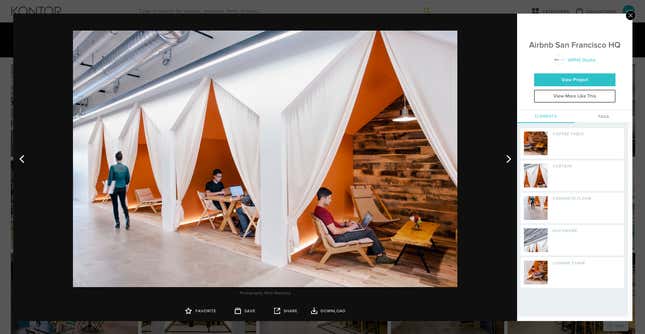 The genius of the site is its robust search platform, designed to help users find styles for their own offices.
Searching for the term "Panton chair," for example, reveals that the iconic S-shaped 1960s plastic chair created by Danish design legend Verner Panton appears in the headquarters of the US Federal Courthouse in Florida as well as in energy drink maker Red Bull's Canadian offices. From the photograph, you can click directly to manufacturer Vitra and determine how many of the $1,675 chairs fit in your budget.
"The real power of the [search] algorithm is that we've linked together manufacturers with all their furnishing in built space," explains Kontor's co-founder Andy Parsons, describing Kontor's propriety search technology, called Design Graph.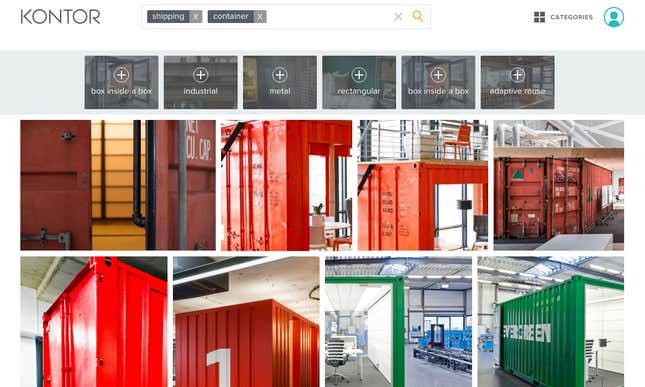 For the curious, key words like "shipping containers" or "adaptive reuse" or "orange" yield a rich cascade of fascinating results—perhaps enough to inspire an office makeover.