Sometime this year or next, a remarkable thing will happen: Driven largely by the purchasing power of the world's growing middle class, more people will buy a smartphone than a regular "dumb" cellular phone. In the last quarter of 2012, the numbers were already close: people bought 264.4 million non-smartphones, which the industry calls "feature phones." In the same quarter, they bought 207.7 million smartphones. The gap is closing, reports Gartner, with sales of feature phones down 19% since 2011, and sales of smartphones up 38% in the same period.
Into this changing marketplace, Samsung has launched its REX series of smartphones in India. There are four models, and they sell for between Rs4,280 and Rs6,490 (around $80-$120). The cheapest, a REX 60, has a screen just 320×240 pixels, the same resolution as the screen of, for example, the forthcoming Neptune smartwatch. Unlike Samsung's high end smartphones, though, they do not run the Android operating system, but instead a custom, lightweight OS that can work on cheaper and less powerful processors, though its graphics are designed to look like Android: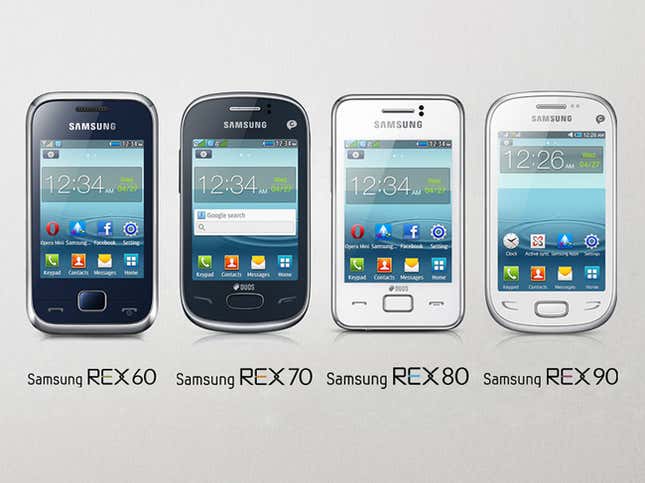 Designed in New Delhi, Samsung's REX phones appear to be aimed primarily at competing with Nokia's inexpensive Asha phones. Overall, Nokia is the dominant brand of phone purchased India, and it sometimes calls its Ashas "intelligent" rather than "smart" phones, perhaps to distinguish them from true smartphones that run operating systems like Android, Apple's iOS, or Windows Phone. Asha, like the Samsung REX, uses a lighter-weight OS.
While inexpensive smartphones might seem like a transitional form, there's no telling how long they'll be around or how long they could remain important to the bottom line of companies like Nokia and Samsung. It depends on how soon phones that run Android (and run it well) can match the rock-bottom prices of these phones. For a person in the global emerging middle class, a functional, smoothly operating "intelligent" phone with limited capabilities is, for now, probably better than a smartphone too under-powered to run properly.