US retailers are easing off a holiday tradition: opening their doors earlier and earlier on Black Friday and Thanksgiving.
This year, retail chains including Walmart, Target, and Sears are opting to open at the same time as last year. A handful, including H&M, Nordstrom, and Staples, will remain closed on Thanksgiving day, while outdoor brand REI won't open at all on Thanksgiving or Black Friday. JC Penney is one exception—the department store moved its kick-off time to 3 pm on Thanksgiving this year, two hours earlier than in 2014.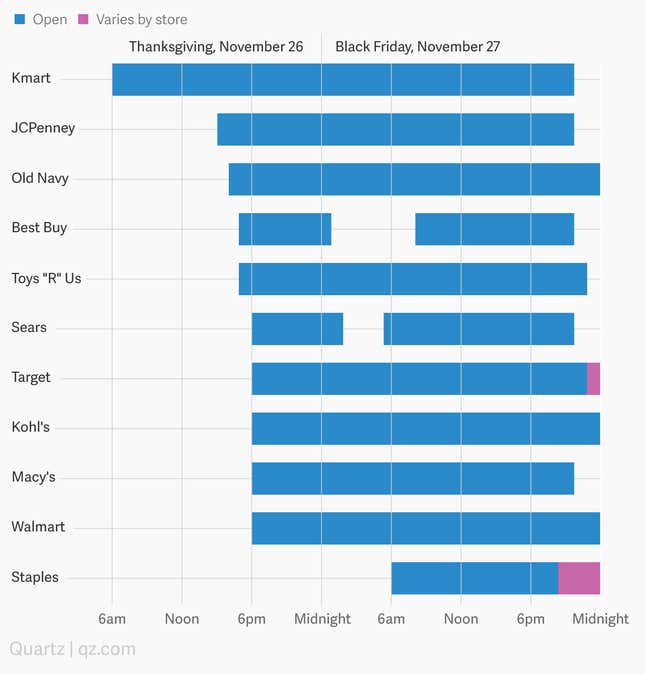 The shift stems partly from the realization that few Americans want to skip Thanksgiving dinner to shop in stores. They're also cooling on Black Friday, turned off by crowds and overworked sales associates.
Last year, consumers expressed 18 times more negative sentiment about Black Friday than Cyber Monday, a recent Forrester analysis (pdf) of aggregated social media mentions from Sept. to Dec. 2014 found. It was the first year the research firm looked at the issue.
Even without earlier store openings, retailers will be burning the candle at both ends as sales slow and stakes mount for the crucial holiday period. Some have already kicked off "Black Friday deals" online and in-store—weeks ahead of the shopping day.
Target and Kmart are pushing one-day deals each week—Target on Monday and Kmart on Wednesday—dubbed "Merry Monday" and "Black Wednesday," respectively. Target is also stretching its "Black Friday" discounts from Nov. 22 to Dec. 1 for the first time this year, which it's calling the "10 Days of Deals." Last year, the big-box chain ran a one-day preview of it's Black Friday deals two weeks before Thanksgiving and held a pre-sale the day before the holiday. Best Buy is also previewing its Black Friday promotions online this year, while continuing its four-hour flash sale strategy.
Shoppers may not love Black Friday, but analysts still say it's the best time, along with Thanksgiving and Cyber Monday, to find the deepest markdowns on hot holiday gifts. "There's a reason that Black Friday and Cyber Monday get as much traction as they do," Forrester analyst Sucharita Mulpuru told Quartz. "They have good offers."
Popular items are also more likely to sell out later in the season. More than three-quarters of online spending during the holidays goes to 1% of product SKUs, or stock-keeping units used to identify distinct items, research by Adobe Digital Insights found, based on an analysis of e-commerce data from hundreds of US retailers over the past eight years, including a portion of 2015.
So, if you're after hot toys, like the Sphero BB8 or Lego Dimensions game, you better buy them quickly.
With promotions starting earlier in the holiday season, consumers are also getting savvier about how they find the best bargains. "Shoppers are becoming conditioned to look for sales across all channels well ahead of Black Friday," said Traci Gregorski of research firm Market Track, in a statement.
More than ever, US consumers will use their phones to shop online this Thanksgiving. Americans will spend nearly half a billion dollars through their mobile phones on Thanksgiving day, Adobe Digital Index projects. That's up from about $338 million in 2014.