Given their depressing regularity, the markets have gotten used to analyzing the impact of terrorist attacks. In fact, after an initial drop in stocks in the regions affected, recent market movements in response to terrorist atrocities have been remarkably short-lived.
And so it is in Paris, for the most part. After opening more than 1% lower, the benchmark CAC index quickly rebounded, and is trading flat at the time of writing. Markets elsewhere in Europe followed a similar pattern.
That said, it is not a return to business as usual for companies tied to France's tourism industry, at least in the short term. The nature of the attacks—on innocents enjoying the food, drink, culture, and sport that draws millions of visitors to Paris every year—is bad for the travel agents, airlines, hoteliers, and other firms that service tourists.
The Eiffel Tower is closed, Disneyland Paris is closed, and reports of empty trains and planes on the way to Paris—and full cars and cabins on the way out—add to the gloom of a city in mourning during what would normally be the start of a happy festive season.
France is, by far, the world's most popular destination for international tourists, welcoming around 84 million visitors from abroad last year, nearly 10 million more than the US, which sits in second place (pdf). Directly and indirectly, tourism accounts for around 9% of French GDP and 10% of total employment, according the World Travel & Tourism Council (pdf). Any lasting damage to French tourism will depress the country's already shaky economy.
But like investors, tourists have also shown increasing resilience and defiance in the face of terrorism. In a recent report (pdf), Deloitte noted that the time it takes for hotel occupancy rates to recover after terrorist attacks has shortened in recent years. This is down to "a shift in mentality among consumers and companies over the last decade, with the emergence of a 'carry on as normal' culture in response to terrorism," it said.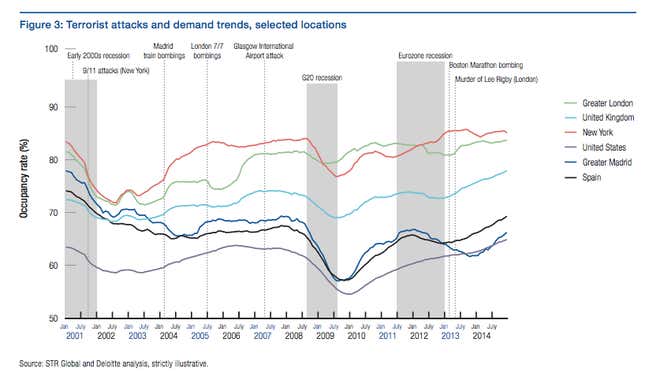 A report out today from Berenberg Bank says much the same (pdf): "Experience suggests that such acts of terror do not derail economic trends in mature Western economies."