The Coca-Cola bottle was born 100 years ago, yesterday, when its iconic contour bottle—heralded as the "perfect liquid wrapper"—was approved for patent on Nov. 16, 1915.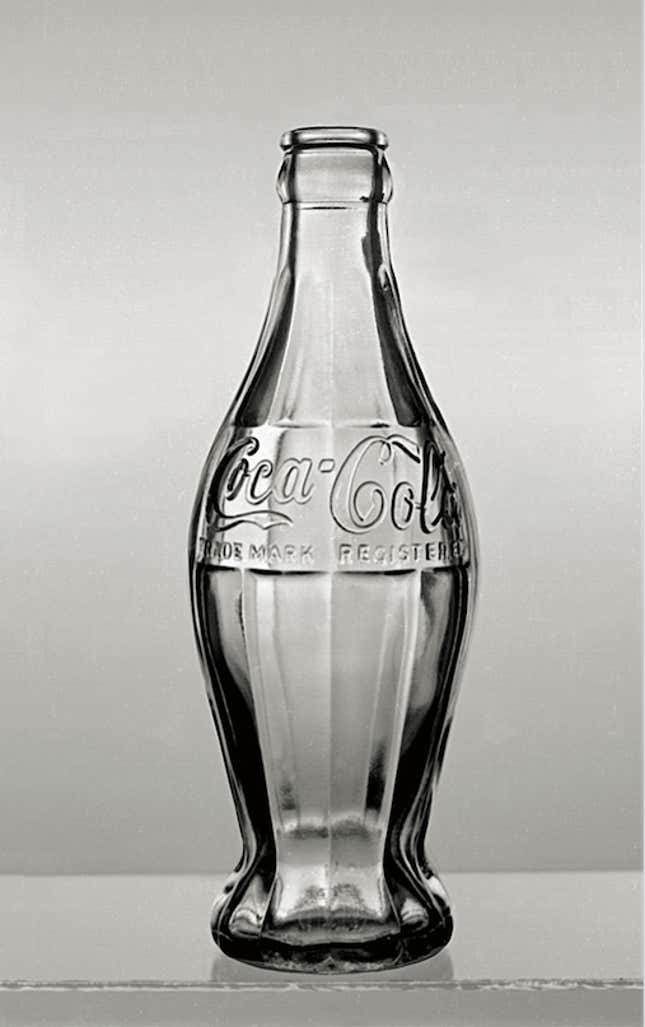 In 1915, to distinguish itself from copycats and competitors like iKoka-Nola, Ma Coca-Co, Toka-Cola and Koke, Coca-Cola issued a design competition announcement seeking "a bottle so distinct that you would recognize if by feel in the dark or lying broken on the ground." The best design would win $500 (approximately $11,700 today).
A five-person team from the Root Glass Company in Terre Haute, Indiana—Chapman J. and William Root, Earl Dean, Clyde Edwards and the shop's foreman Swedish émigré Alexander Samuelson, whose name is listed on the original patent—created the winning proposal for the contour bottle.
They were inspired by an illustration of a cocoa pod with "an elongated shape and distinct ribs," from the local library, explained Coca-Cola's director of heritage communications Ted Ryan in an article posted on the Coca-Cola website. Originally intended as a "brain tonic and intellectual beverage" by its inventor pharmacist John Styth Pemberton in 1886, Coca-Cola's recipe once included a small dose of cocaine (now eliminated) derived from the leaf of coca plant shrubs—but not the cocoa which grows in pods, from trees.
"They knew Coca-Cola had nothing to do with cocoa, but felt the cocoa pod had an appealing shape," explained a Coca-Cola spokesperson to Quartz. The story goes that during the brainstorming process, the designers went to the local library to search the dictionary for the word "coca," stumbled upon "cocoa"—and just went with it.
The judging committee was sold anyway, calling Root Glass Company's design "a clear winner," according to Ryan. The patented design was curvier, with more girth than the version that eventually went into mass production. The first edition of their glass bottles were colored "German Green" (later renamed "Georgia Green" in honor of the company's home state). These first bottles were also specified to be made of heavy, durable glass—no less than 14.5 ounces (or 0.9 pounds)—so when filled with liquid, Coke bottles used to weigh more than pound.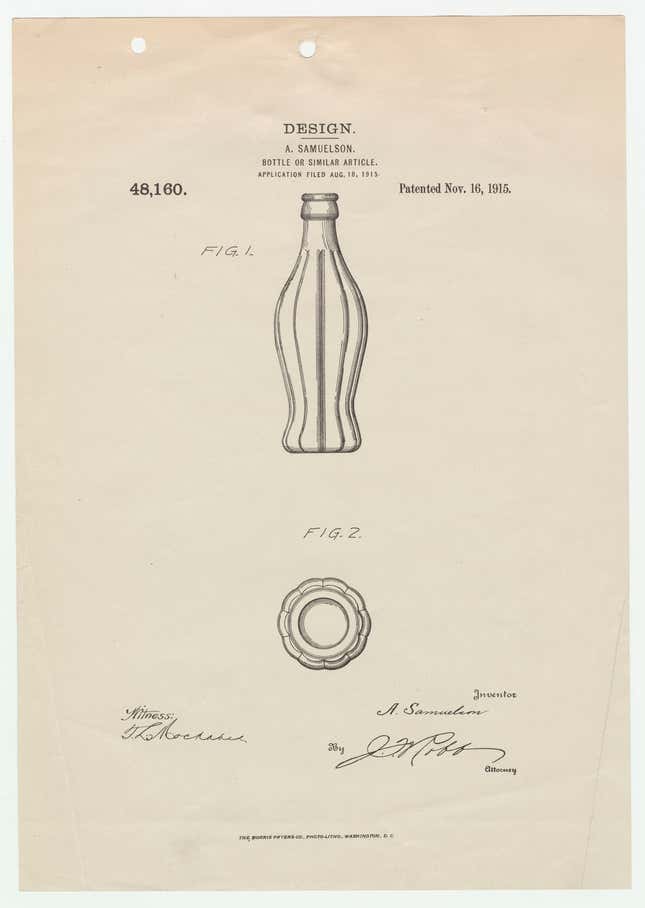 When the Root Glass Company patented the design, their application omitted Coke's signature script lettering logo to keep it secret from competitors. The original patent (a.k.a. the contour bottle's birth certificate) is now on display at the National Archives in Washington, DC until December 2.
While the unprecedented bottle shape certainly makes a case for distinctive design in branding, Coca-Cola's bottle has also transcended soft drink sales to become a cultural icon—lionized, lampooned and immortalized in visual culture—enough to be featured on the cover of TIME magazine in 1950, the first ever commercial product to gain that distinction.
The unmistakable contour bottle has also appeared in art (notably, in Andy Warhol's pop art canvases), in numerous movies, and has even seeped into vernacular language. "Coke bottle glasses" refers to round-frame eyeglasses with very thick, face-distorting lenses, like the thick glass bottom of the contour bottle.
Since its debut, over 300 billion glass Coke bottles have been sold worldwide.