A recent spate of attacks in Egypt, Lebanon, and France have focused the world's attention once again on terrorism, and triggered "a heated debate about whether western leaders and media underplay atrocities in other parts of the world. But a new study suggests that terrorism, far from being a 2015 phenomenon, has actually skyrocketed in the last several years, with most of the casualties concentrated in just a few countries: Syria, Iraq, Afghanistan, Pakistan, and Nigeria.
Acts of terrorism killed 32,658 people in the year 2014, according to a new report from the Institute of Economics and Peace. Yesterday, the think tank released its third edition of the Global Terrorism Index, a comprehensive analysis of terrorism in 162 countries, based on data from the University of Maryland's center for the Study of Terrorism and Responses to Terrorism (START).
The data show an 80% increase (pdf) in the number of terrorism-related deaths in 2014 compared to 2013.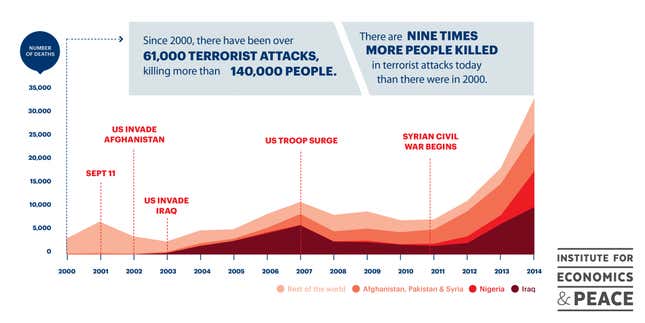 The Islamic State (ISIL) and Nigeria's Boko Haram together caused 51% of all terrorism deaths. Boko Haram slightly edged out ISIL for the odious title of the world's deadliest terror organization, having publicly claimed responsibility for a few hundred more fatalities.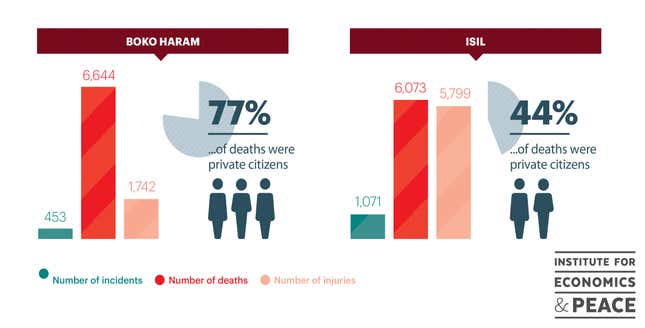 More than half the attacks and more than three-quarters of reported deaths were concentrated in five countries last year. These countries also ranked highest in composite rankings based on the number of attacks, fatalities, injuries, and total property damage.
The vast majority of terror attacks since 1989, the report reminds us, have occurred in countries experiencing or involved in violent conflicts.
The start of the increases in deaths from terrorism in Iraq coincided with the US-led invasion of Iraq in 2003. Deaths from terrorism spiked in 2007 with the surge in US troops in Iraq and then subsequently fell by 56 per cent. It was only in 2013 with the rise of ISIL that Iraq suffered from the same level of terrorism again.
In 2014, Iraq experienced "the highest levels of terrorism ever recorded in a single country for one year," with 9,929 deaths.
Approximately 2.5% of worldwide deaths by terror attack have occurred in western countries since 2000. Excluding the attack on the US on September 11, 2001 brings that percentage down to 0.5%. And, of course, this does not include the 2015 attacks in Paris.
According to the current GTI report, the main terrorist threat for Western countries is still from "lone wolf" attacks, not organized groups. Whether that will still be true in 2015—when sophisticated attacks attributed to ISIL have killed 352 people in Egypt and Paris in the span of several weeks—is not certain.