Tires might become the "freedom fries" of the current decade—at least if Maurice Taylor, CEO of US tire-maker Titan International, has anything to do with it. To a recent appeal from the French government for Titan to take over a failed Goodyear tire plant in northern France, Taylor offered an unqualified "no."
His reasoning, however, was much more colorful. In a letter (link in French) addressed to industry minister Arnaud Montebourg that Les Echos published today, Taylor wrote:
The French workforce gets paid high wages but works only three hours. They get one hour for breaks and lunch, talk for three and work for three. I told the French union workers this to their faces. They told me that's the French way…!
France's national trade union responded to Taylor's letter in similarly snippy style. "The workers of Goodyear would have considered themselves insulted had the author of the letter been someone credible," the Confédération générale du travail (CGT) said in a statement. A CGT official said the letter proved Taylor to be enough of a "lunatic" (paywall) that he was unsuitable to "hold the reins of a multinational company," reported the Financial Times.
But behind the catty exchange lies a curious fact. At $57.7 worth of output per hour, French worker productivity is actually among Europe's higher. That's compared with $55.8 in Germany and $47.2 in the United Kingdom, according to OECD data for 2011.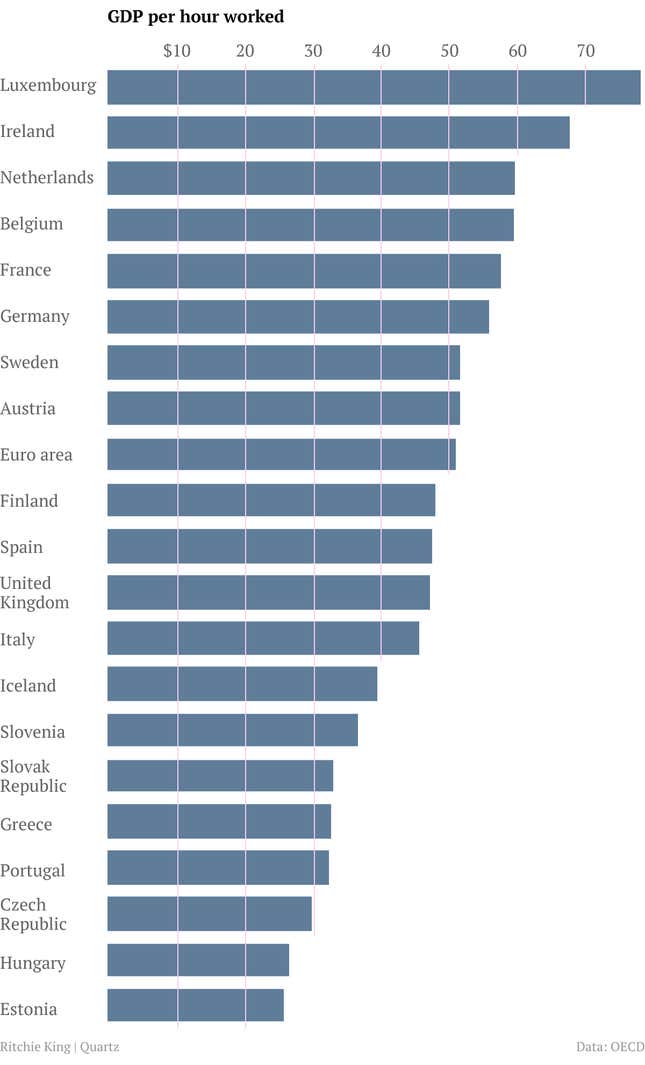 And, sure, France's oft-mocked labor law sets the working week at just 35 hours. But including overtime, the average French working week was 39.5 hours in 2011—just shy of the 40.0 hours per week that workers in the 17-member euro zone averaged in 2011, according to the OECD.
So if French labor productivity isn't what's derailing a Titan rescue of the plant, what is?
In Taylor's words, it's "the crazy union."  Though the plant has been losing as much as $80 million a year since 2007, the powerful French union consistently blocked Goodyear's efforts to make the plant profitable by cutting work hours and, possibly, some of the 1,173 jobs it provides. In 2011, Titan began talks with Goodyear about a takeover but negotiations broke down over Titan wanting to reduce the factory's workforce. Talks began a second time last September but fell apart over the union's demand of a five-year guarantee of continuing production.
Based on his letter, Taylor won't be shaking hands with CGT any time soon. "Titan is the one with the money and the talent to produce tires. What does the crazy union have? It has the French government. The French farmer wants cheap tires. He does not care if the tires come from India or China and these governments are subsidizing them," he wrote. If this is the final chapter in the foreign tire-makers' tussle with French unions, it looks like Taylor got the last word.