The daily grind doesn't apply for those lucky enough to do what they love. For Eliza Walper, an LA-based talent manager at Brillstein Entertainment Partners, work and play overlap seamlessly, turning a getaway at a friend's northern California ranch into an opportunity to both work with focus and unplug with friends.
Friday, October 23rd
I am very much a morning person: today I wake up at 6am, work out, then get packing for a trip to a ranch outside Sacramento. I travel a ton so I have my routine set: all my tech things are in one place so I don't forget any of them; I have a docking station so I can bring my laptop with me wherever I go, synced up to my desktop; and I dress in a bit of a uniform to make packing clothes easy. I also never travel without my noise canceling headphones—I put those on for cranking out emails.
I get to the office around 10am and do a few hours of emails and calls. I help handle the endorsements for many Brillstein clients, working with their agents and managers to negotiate deals; it seems like things go crazy every time I'm about to leave for a trip. Right now it's starting to get busy; as I'm leaving I get the news that some of our clients are in the running for a Super Bowl spot—very exciting.
I leave for the airport around 1pm for a 3pm flight—I have TSA PreCheck, thankfully. Usually at the gate I try not to take out my laptop out unless it's absolutely crucial. Today we're finalizing a deal for a client, so once I've boarded I continue work on a contract on my phone.
We land around 4:30pm. I turn my phone on right away, but since it's a Friday, things have calmed down a bit. We have a two-hour drive out to the beautiful countryside ranch—the fresh air is so nice. When we arrive we discover that the router is broken so there's no internet. Luckily I have a hotspot on my phone for these very occasions.
In the early evening I turn my phone off, which I have to force myself to do sometimes. I try to heed something one of my clients told me about "sleep hygiene." She says not to put my phone by my bed because otherwise I'll look at it first thing, and then I'll be reacting rather than getting my day started in a productive way. I've found that to be a very helpful tip.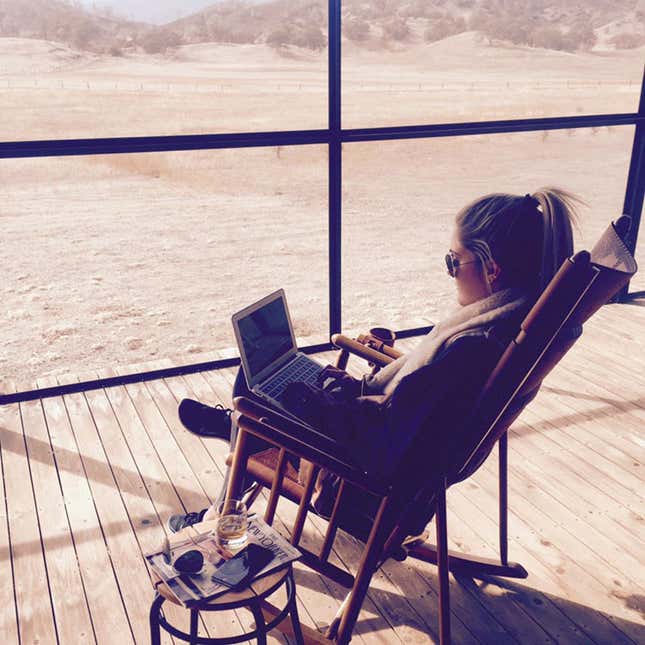 Saturday, October 24th
I wake up, have breakfast with everybody, and then get to work. I put on my headphones, connect to my hotspot, and start plugging through emails, looking through contracts, and trying to do some research on clients and potential deals—basically just proactive work rather than reactionary work. A lot of the time during the week I'm reacting to things, so I use weekends to get ahead of things.
I spend the afternoon on the porch in the ranch's lovely rocking chairs. I try to unplug for a bit but I have a client going in for an audition so I text with him about how it went. I also check out Adele's new song on Spotify.
At night we explore the little nearby town of Stonyford and then come home for a steak dinner and pecan pie.
Sunday, October 25th
We have breakfast around 10am, and then I work on my laptop for a bit before heading to the airport. Once I'm situated at the gate I catch up on news and Instagram. I actually get a lot of industry news from the app: Brand deals now often require social media posting, so I check what deals are happening on there. And I also find myself using Snapchat for similar purposes more and more.
I land in LA around 4:30pm. I don't get Sunday blues like some people do; I actually really enjoy Sunday nights because I tend to see my family, who live close by. Tonight I hang out with my parents, the dogs, and get some takeout. Eventually I go home and fall asleep around 11pm, ready to start another week.
With more and more work being done remotely, your office is an evolving space. Wherever that office may be, 
 can help you get there, and get away.
This article was produced on behalf of Delta Air Lines by the Quartz marketing team and not by the Quartz editorial staff.