China's foreign ministry today (Nov. 19) confirmed the death of a Chinese man at the hands of ISIL. The terror group said Wednesday (Nov. 18) that it had killed two hostages—a Norwegian man and a Chinese man—after demanding ransoms for their release earlier.
ISIL announced the executions in the latest issue of its English-language magazine, including images of the dead bodies of the men. ISIL said the hostages had been "executed after being abandoned by kafir nations and organizations." Kafir means "infidel" in Arabic.
The Chinese government "made all-out efforts to rescue him," the ministry said. "However, with no regard for human conscience and moral baseline, the terrorist organization still carried out this cold-blooded and violent action." The Chinese government condemns the "inhuman action and will definitely hold the perpetrators accountable."
The victims had been held in Syria since at least September, when ISIL listed them as "for sale" in an earlier edition of its online magazine, presumably hoping governments would pay to get them back. The Norwegian man has been identified as Ole Johan Grimsgaard-Ofstad, 48, a graduate student in political philosophy from south of Oslo, and the Chinese man as Fan Jinghui, 50, a freelance consultant from Beijing.
It is unclear when or where the two were captured. The last update on Grimsgaard-Ofstad's Facebook page, dated Jan. 24,  shows he was in Idlib, Syria and on his way to Hama.
Norwegian prime minister Erna Solberg told a press conference that the government cannot confirm the killing, but said "we have no reasons to doubt it."
Fan is believed to be the first Chinese citizen to have been captured by ISIL. Some foreign policy experts said his capture would be a reason for Beijing to speak out more forcefully against ISIL, even if sweeping military action by the Chinese was unlikely. Speaking at the APEC meeting in Manila today, Chinese president Xi Jinping reiterated the Foreign Ministry statement, but did not elaborate.
Chinese media reported Fan's death, citing the foreign ministry's statement. Despite reports to the contrary, "Fan Jinghui" and the name in Chinese characters were not being censored on China's biggest search engine Baidu or on the Chinese micro-blogging site Weibo at 11:30am Hong Kong time (it is possible they were censored earlier, but censorship was lifted after the foreign ministry statement was released). Soon after the ministry's statement was released, 中国人质, or Chinese hostage, was the number one search term on Weibo, and 樊京辉, or Fan Jinghui, the third.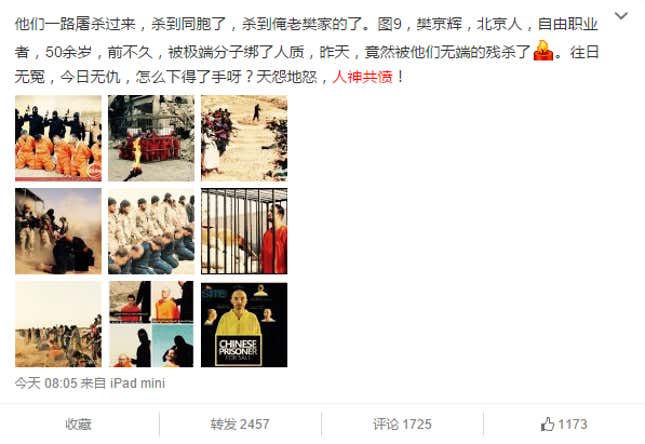 Weibo users mourned his death by posting messages with a photo of a candle (left). "How can they put their hands on him? Heaven and earth condemn them, the gods and humans are angry," wrote one user. 
Others stumped for China to take military action. "Whoever killed my compatriot, he must also be killed," wrote another.
Fan began his career as a middle school teacher in Beijing, opened an advertising agency, and worked for state-owned broadcasters and newspapers before eventually deciding to leave full-time employment. He described himself as a "wanderer" and said he liked "insecurity."
"Deliberately, I want to pursue this insecurity, because it makes me have a kind of pleasure," Fan said in an interview (link in Chinese) with a Chinese radio station in 2001. "Many young people like to read wuxia [martial-arts-hero] novels—the fighting and killing, the tramp… that feeling is actually a big temptation to young people."