How easy is it to make a smartphone in China? So easy that even a soda company can offer one.
PepsiCo has begun promoting a Pepsi smartphone—in two models, no less—for Chinese consumers who love cheap gadgets and carbonated beverages. Two days ago the company launched a  "crowdfunding" campaign on JD+, the crowdfunding site operated by e-commerce company JD.com. It's attempting to raise 3 million yuan (about $470,000) in pre-orders for two handsets known as the Pepsi P1 and P1s.
Pepsi is making 4,000 units available. The first 1,000 pledgers can purchase the P1 phone at 499 yuan (about $78). The next thousand can purchase the P1s, which is identical to the P1 save for an extra SIM card slot, at 699 ($110). The next thousand can buy the P1s for 999 yuan ($156), and the final thousand can get it for 1,299 yuan ($203). If the mark of 3 million yuan is reached, everyone who ordered one will get a phone; otherwise, nobody will. 
For those who watch the specs, the phones come with a 5.5-inch 1080p display, 2GB of RAM, 16GB of storage, a 1.7Ghz 8-core processor, a 13-megapixel rear camera, a 5-megapixel front camera, and a 3000mAh battery. Overall, it's a "good enough" smartphone that will serve its purpose for anyone looking for an inexpensive handset.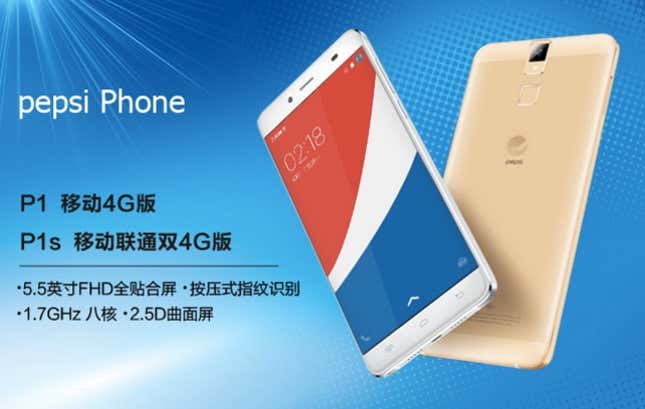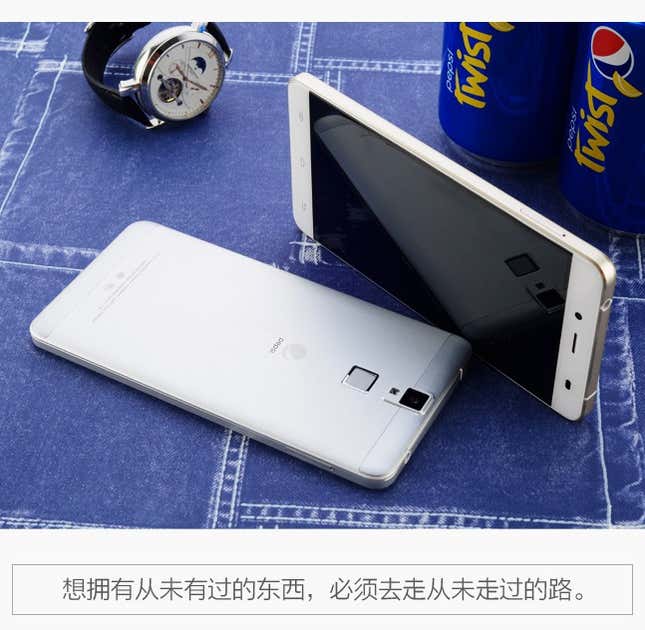 The P1 comes equipped with the Pepsi logo engraved on the back, and ships with Pepsi-themed wallpaper. But other than that, it's your ordinary Android phone, and that's precisely the point. Reuters reported in October that Pepsi is licensing out the phone's manufacturing to an unnamed third-party company, as part of a broader foray into branded merchandise in China.
"Available in China only, this effort is similar to recent globally licensed Pepsi products which include apparel and accessories," a spokeswoman told Reuters.
The notion of a Pepsi smartphone might seem unusual to those more accustomed to buying expensive, name-brand gadgets every three years or so. But it's emergence speaks to a meaningful global trend stemming from China: Smartphones are so easy to make that they're no longer cutting-edge technology—they're swag. That means that high-profile brands like Samsung and LG aren't just competing with Apple or Xiaomi for sales—they're also competing with no-name brands, or perhaps even a soda maker.