Coal is the biggest source of electricity worldwide. But not for much longer.
In a comprehensive report on the future of energy, the International Energy Agency, a policy and research group, said that renewables now sit in second place in the global electricity production mix.
By the 2030s, they will become the biggest source: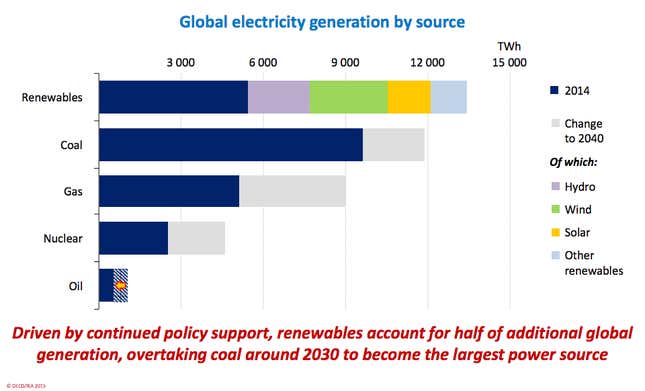 Falling coal demand from China and a glut of American supply hitting the market pushed prices down in recent years. Even so, coal use is being restrained by policy decisions—like the EU closing coal plants to meet its emissions objectives.
"The single largest energy demand growth story of recent decades is near its end," the IEA wrote. "Recent years have seen a marked slowdown in global coal demand growth, led by China," and China's coal use is projected to have pretty much plateaued.
Meanwhile, China has become the biggest installer of renewable energy technologies.
The renewables push is supported by government subsidies, worth as much as $135 billion globally, the IEA said. But fossil fuels—like pollution-heavy coal and hard-to-reach oil, where costs of extraction are mounting—are still subsidized much more: a whopping $490 billion in 2014.