Looks like the euro zone is heading for the 0.3% contraction the European Central Bank forecast. Manufacturing and services in the 17-nation currency bloc fell more than forecast in February, according to a purchasing manager index by London-based Markit Economics. It fell to 47.3 in February (pdf) from 48.6 in January, compared to a consensus forecast of 49. ECB officials often cite the purchasing managers index (PMI) data as a leading indicator of economic growth; a reading below 50 signals a contraction. Here's a graph of Markit's flash PMI index for the euro zone, which combines both servies and manufacturing surveys. You can see the sharp downward tick in 2013 at the far right of the chart.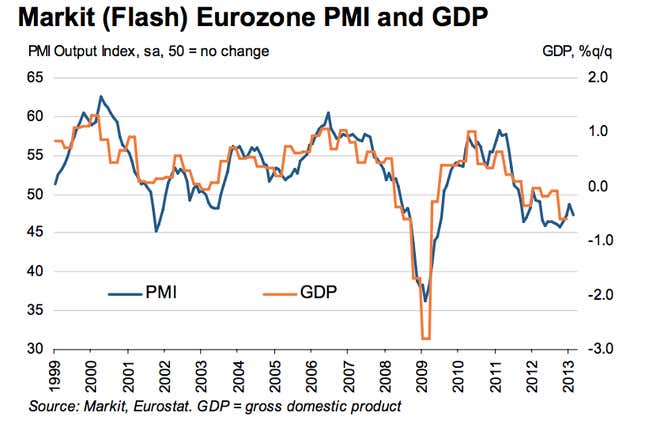 All is not equal in the European Monetary Union. Markit PMI data for Germany was above 50 in February, signaling a return to growth for the euro zone's largest economy after a contraction in the last three months of 2012. France, the second largest economy, saw its services and manufacturing output drop further below 50 and well below the euro zone average. The index fell to 42.3 in February from 42.7 the month before, nearly a four-year low for the country. "Panellists reported that a general lack of confidence in the economic outlook had resulted in clients reining in spending and postponing orders, feeding further back into the downward spiral," says (paywall) Jack Kennedy, author of Markit's France PMI survey. Here's France's flash PMI index.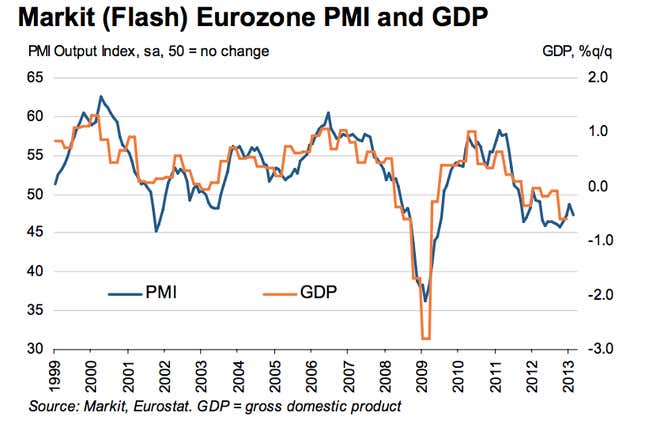 Germany's PMI reading meanwhile was 52.7 in February, which is down from the level in January but "comfortably above 50. Germany's manufacturing sector posted its fastest rate of new order growth since May 2011, Markit notes in its report, as companies saw a sharp rebound in export demand, mostly from Asia. Here's how Germany is doing, according to the index.