In the relentless push to ensure that you don't go five minutes without seeing something Star Wars-related before The Force Awakens is released worldwide in December, Disney has teamed up with Google to allow users to infuse a Star Wars theme into Google's apps. But, like all Jedi before them, users must choose whether they want to join the light or dark sides of the Force—the hokey religion that comes with ancient weapons that are no match for a good blaster.
Google announced in a blog post today (Nov. 23) that a group of engineers, suffering from a severe case of arrested development, had used their technical prowess to refit a range of apps, including Google Maps, Gmail, YouTube, Search and even Android Wear, with Star Wars details. After choosing whether you'd like to join the ranks of such Jedi masters as Qui-Gon Jin, Yoda, Obi-Wan Kenobi, and a whiny teenager from Tatooine, or the cadre of villains like Darths Maul, Tyranus, Sidious, and Vader, you'll find a ton of tiny changes made to the apps you use every day. If you choose the light side, the progress bar on YouTube becomes a lightsaber; the pegman in Google Maps becomes a little Rebel pilot, and the location marker is now an X-Wing.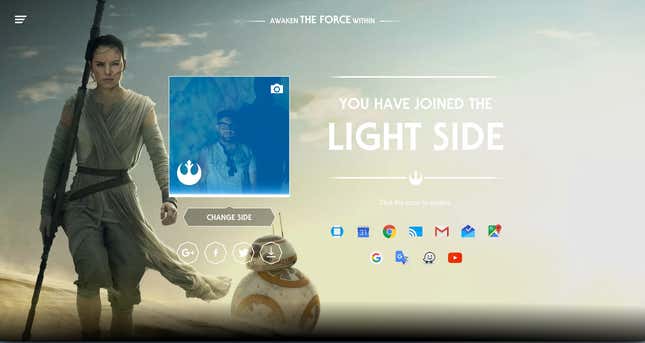 Google didn't list out every little change that it's made to its services, so it's likely that more will pop up as more people try out the Star Wars-branded web. One annoying addition that The Verge found, though: Google has plugged Star Wars-related events into everyone's calendars. Google wasn't immediately available to comment on how many Star Wars events it's added, or when the promotion will end, but it's possible that you'll be receiving event alerts for movies that come out long after you're dead.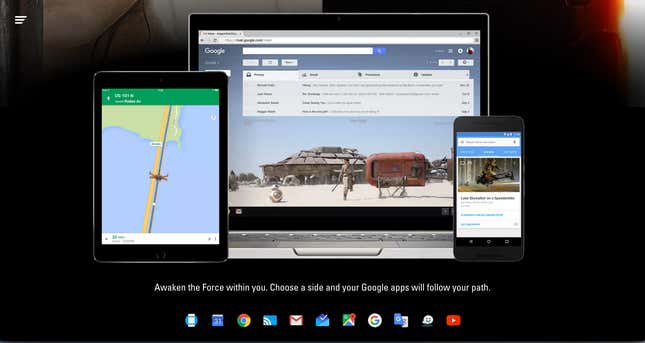 If the annoying lightsaber noises as you change the volume on YouTube or the pictures of Jakku on each new Chrome tab prove too much to handle, you can turn the Star Wars bonanza back off in the same place you turned it on—just choose neither the light nor the dark side. The page also has a bar chart (made of lightsabers, of course) that seems to show how many people have chosen each side. While Google wasn't available to confirm that this chart was live-tracking signups, it does seem that the general internet population worryingly favors the dark over the light. Hopefully, perhaps, more people just like the color red over blue.
Google said that this isn't the only piece of Star Wars advertising it's going to do before the opening night. The company said that it plans on bringing "the Millennium Falcon in all its (virtual reality) glory" to its Google Cardboard VR system. So it seems inevitable that, in the words of Obi-Wan, "The Force will be with you, always."