Even the most sophisticated shoppers can get swept up in the consumer frenzy of the holiday season. This year, struggling retailers worldwide are likely to make it even crazier by starting sales sooner, offering deeper discounts, and inundating our inboxes, while annual events like Black Friday make holiday shopping in the US a nightmare.
"There's this bombardment," shopping psychologist April Lane Benson tells Quartz. Benson, the author of To Buy or Not To Buy: Why We Overshop and How To Stop, is an expert who treats people with consumption habits that disrupt their bank accounts, relationships, and work.
Benson says the hype surrounding the holiday season makes it a typical time to backslide into overspending—and that problem isn't exclusive to shopaholics.
That said, gift-giving is part of many traditions, and promotional prices can make the season a good time to shop. But 60% of people said holiday spending strains their finances in a Nov. 23 survey by credit monitoring service Experian, and more than one in five respondents reports having been late to pay off credit card charges from the season.
Here are Benson's tips on keeping it under control.
Plan ahead—like, now
"The thing to do is to create the plan now, and have it with you at all times," says Benson.
Start with a list of the people you'd like to give gifts to, and a total sum you're comfortable spending for all of the gifts. Then, list what you'd like to get for each person as specifically as possible and approximate the price. Benson deliberately calls this a "plan," and not a "budget."
"A 'plan,' from my point of view, is more open-handed than tight-fisted," she says. "Remember that giving a gift doesn't necessarily mean buying a material object."
A schedule helps, too: Where, when, and with whom will you shop? Apps such as Santa's Bag can help you keep track of your progress and avoid the last-minute panic splurge.
If you find yourself ambushed
What if you find yourself in a store—or even at online checkout—suddenly clutching a plush sweater you never planned on buying? But it looks great with what you're wearing! And it's 40% off?!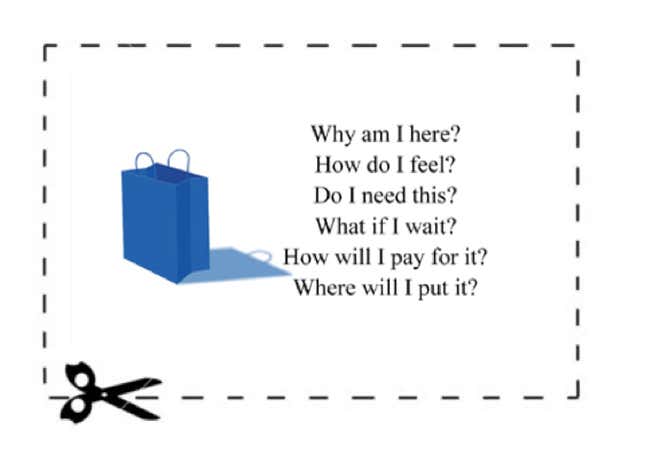 Benson suggests printing this little piece of paper and keeping it in your wallet. (Alternatively, you could keep it as a note in your phone.) It asks tough-love fitting-room questions like "Why am I here?" and "Do I need this?"
When faced with an unplanned potential purchase, answer each of the questions, preferably in writing—you can pretend you're texting someone—before you buy something you may regret.
Mindfulness in shopping is key—especially when retailers design stores interiors and advertisements to make shoppers essentially, well, lose it.
Be aware of triggers
Are you buying an item only because it's on sale? That makes sense, psychologically, but be aware the retailer probably over-priced it to begin with, with the intention of discounting. A "doorbuster sale," remember, is made to create a sense of urgency—and often comes with hidden costs.
Is it because you're cold? That would make sense too. A paper under peer-review suggests that cooler temperatures in stores could lead to more emotional—or impulsive—decision-making in shoppers.
Is it because you're panicking because you haven't eaten and the music is so loud and the store is so crowded that you just need to GTFO? If you don't have the patience to pause and answer these questions, you should probably skip the purchase.
"We're trying to create a pause, a space," says Benson. "A mindful pause."
In the midst of the holiday season, that can be a gift unto itself.