Amazon's new tablet is so cheap that you can buy six of them for less than the price of one iPad mini.
As part of the company's hardware refresh, in September, Amazon showed off a brand new 7-inch tablet that costs $50. To sweeten the deal, it's selling the Fire Tablet as a six-pack for $250—six for the price of five. That's enough to catch any bargain hunter's attention, but as part of a special Thanksgiving and Black Friday promotion, Amazon's bringing down the unit price to an eye-popping $35.
With the holidays around the corner, some people might think of the Fire tablet as a cheap way to cross off names from their Christmas lists. But given its small screen and underpowered processor, we don't expect many people will be thrilled to receive it as a gift.
Nobody really needs six tablets. Amazon's motivation for offering the six-pack seems rooted in the belief that people want dedicated tablets that serve specific functions—one on the bedside table that wakes you up each morning, one for looking up recipes in the kitchen, one to kill time while in the bathroom (something people already do with their smartphones).
We only received one review unit, so can't quite attest to that, but here's our impression of the Fire tablet after a month of use.
What's interesting?
While there are serious limitations—lag, sites not rendering properly on the small screen, Amazon's modified version of Android—the Fire tablet works exceedingly well for (you guessed it) shopping on Amazon.
Because you enter in your log-in information during the device setup, shopping on Amazon's app is incredibly seamless. All your information—credit card numbers, shipping addresses, previous orders—are already loaded. Amazon's Silk browser also makes it easy to shop since it displays Amazon results in a separate tab next to search results. Clicking on the Amazon results will lead users to the corresponding Amazon apps (shopping, video, music, books, etc.). Overall, it's great for Prime members, but lacking for those who haven't bought into Amazon's ecosystem.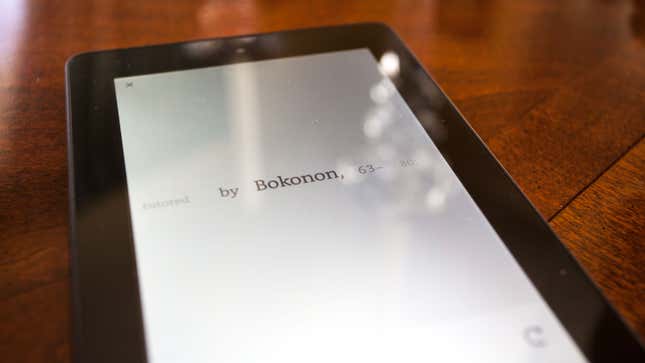 It's also a good device for reading Kindle books. The latest version of Amazon's Fire OS brought a new feature to its tablets called Word Runner. Made for (aspiring) speed readers, it flashes one word at a time on the screen, the speed of which users can adjust. It's pretty remarkable how much you can comprehend—and it's quite satisfying to know you finished a chapter at 500 words per minute—but Word Runner can also be a bit manic. It proved especially challenging when I was reading Kurt Vonnegut's Cat's Cradle because of its many made-up words and phrases.
Does it work?
The tablet works fine, but it requires some patience when loading apps.
Worth the money?
Indeed, especially at $35! The Fire tablet is probably not on many people's wish lists, but it's solid for the price. So if you've been wanting a simple device to shop, browse, and read on—or something to entertain you while on the toilet—this does the job.