Google has shared a map of the "top searched holiday cookies" in the US, and apparently we live in a gingerbread nation. At the time of publication, there were only 11 states in which "gingerbread cookies" were not the "top searched holiday cookies," according to Google.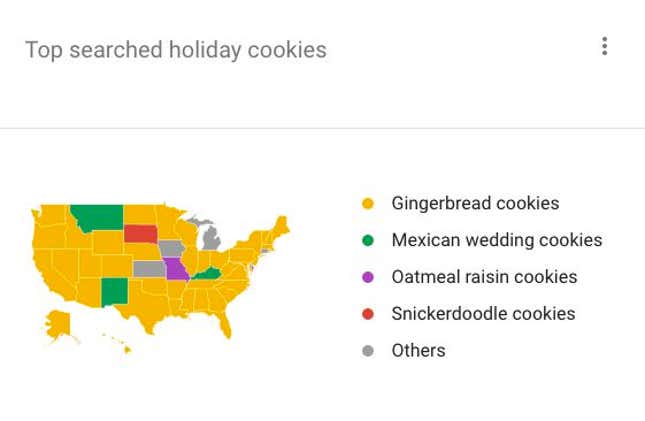 It raised some important questions about the Google Data Lab's methodology, and the nature of holiday cookies overall.
What is a "holiday cookie," anyway?
Must it be dusted in sugar, or offer the potential for decoration?
Nay, Google Data Labs editor Simon Rogers said his team looked at the proportionally highest searches during what he called "the Thanksgiving period" over the last three years.
Are Mexican wedding cookies taking over the US? They're #2!
I hope so, because they're delicious. Right now, these melt-in-your-mouth, powdered sugar-covered, nutty butterballs only appear to dominate the great states of Montana, New Mexico, and Kentucky.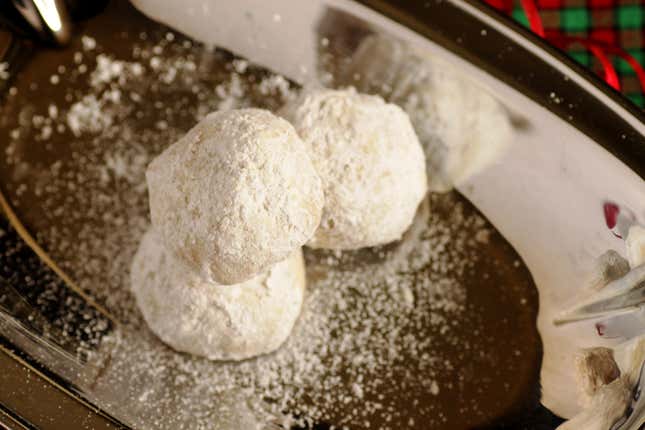 But that may have more to do with search terms.
Mexicans don't get the exclusive on these cookies, which are sometimes also called Russian teacakes or just snowballs. History-obsessed baker Nick Malgieri speculated in the LA Times that the recipe may have come to Mexico with nuns from Europe, citing their similarity to Viennese crescents.
Trump wouldn't approve, but I do. These cookies know no borders.
Where were the chocolate chip cookies?
Searches for chocolate chip cookies on Google spike every December, so what gives?
Rogers confirmed that indeed his team made a rash editorial decision: "We focused on 'holiday' cookies, so didn't search for things that are big anyway," he wrote in an email, dismissing America's favorite cookie with a single line.
He might have saved Missouri from humiliation by similarly eliminating searches for "oatmeal raisin." Instead, the Show-Me State is left, exposed and purple in the center of the country.