The late broadcaster and NFL Hall of Famer Frank Gifford suffered from the concussion-linked brain disease chronic traumatic encephalopathy, his family announced this week. His survivors have chosen to donate his brain to assist with research on the disease.
Chronic traumatic encephalopathy, or CTE, is a degenerative disease believed to be linked to multiple head traumas. It can cause dementia, personality changes, and cognitive and motor problems.
CTE can only be diagnosed after death, and Gifford is one of many current and former football players to have their brains studied posthumously to better understand the disease.
Of 91 former pro football players' brains studied thus far, 87 of them showed signs of CTE, a PBS investigation found.
Gifford died in August at the age of 84. As a running back for the New York Giants in the 1950s and 1960s, he endured a number of hits on the field, including a serious concussion during a 1960 game that sidelined him for the entire 1961 season.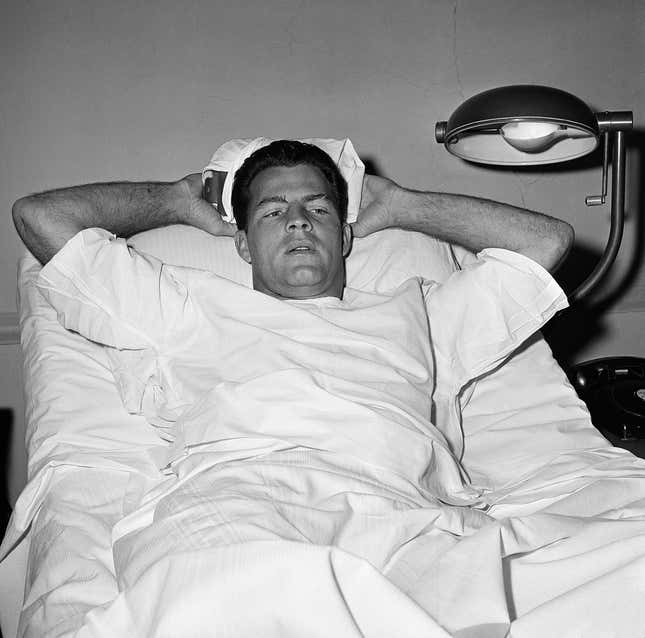 He returned to the game as a flanker in order to avoid further head trauma, and became a broadcaster after a successful 12-season career. He was married to the TV host Kathie Lee Gifford.
"During the last years of his life Frank dedicated himself to understanding the recent revelations concerning the connection between repetitive head trauma and its associated cognitive and behavioral symptoms—which he experienced firsthand," the Gifford family said in a statement released Wednesday.
Earlier this year, a judge approved a potential $1 billion settlement between the NFL and former players who say the league hid the known risks of repeated head injuries.