When he drives his BMW 3 Series for Uber, Jasper Fu is not really there for the money. Once, when a wealthy lady angered him by accusing him of taking a longer route to earn a higher fare, he finished the ride on the app early, and drove her home for free. He earns 3,000 yuan ($469) a month by driving two hours a day on average—that's just one tenth of the salary he earns as a sales manager.
"I don't like driving," the 33-year-old with a pony tail, stud earrings, and a 108-bead Buddhist bracelet told me at a Shanghai cafe in early November, "but I like to talk to people."
Fu is also known as "190 cm," his nickname on WeChat, which refers to his height, a point of pride. A happily married Beijing man with a Shanghai wife, Fu splits his time equally between the two cities for his business and family. In his free time, he drives for Uber—not for extra income, he said, but to meet people.
"Under no other circumstance can I find a stranger to talk with me for like 10 to 20 minutes," he said. His Uber record so far is 12 hours in a row of driving, because he didn't want to go home and be alone while his wife was working. When he got out of his car, he said, he'd been driving so long that "my legs were trembling."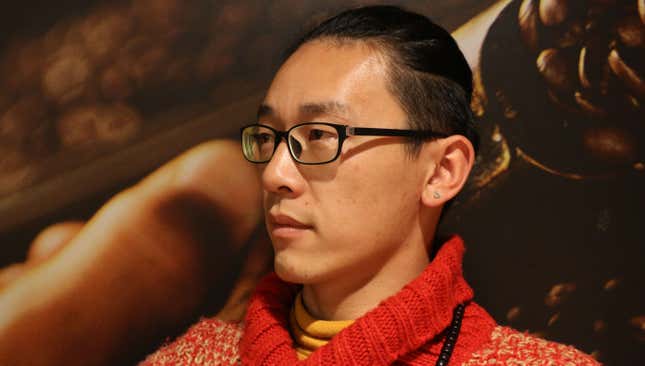 Uber is having a hard time in China—and burning over $1 billion a year there, as CEO Travis Kalanick said in a recent interview. While it claims 30% of its trips come from China, the local ride-hailing market is dominated by Uber's Chinese rival Didi Kuaidi. Didi nabs seven times as many daily bookings as Uber, operates in over 400 cities in China while Uber is just in 40, and has 4,000 employees while Uber has only 200 (plus a large army of underpaid and overworked interns).
On paper, Uber's business in China looks like it is getting crushed by its Chinese rival. But after interviewing several Uber drivers in Shanghai, I made a surprising discovery: Uber has carved out a special place in China. To many upper-class Chinese drivers like Fu, Uber acts more like a social platform than a ride-sharing app, connecting them to new friends.
Uber is filling an empty niche created in an upwardly-mobile generation that finds itself far from extended families, or with lots of time on their hands after retirement. Many of them have no siblings and few cousins because of China's one-child policy, so few relatives their own age. And they sometimes find making new friends difficult—to many Chinese who are naturally quiet and restrained, striking up a conversation with a stranger at a club or a bar is not a comfortable habit. Nor is it common for upwardly mobile workers to take on shifts as a bartender or waiter in order to meet new friends, because those jobs are deemed inferior.
But there's no such stereotype for drivers—especially when you own the car yourself. Uber offers an intimate space for two people to chitchat for a few minutes without having to worry how to end the conversation nicely, or whether you have to meet again, unless you really want to.
Uber drivers join WeChat groups with other Uber drivers, gossip online and meet up occasionally. There are more than 40 drivers in Fu's group where they frequently share the fares they earn, traffic information, how to drive to earn the biggest bonus, and when to attend some of Uber's promotional events. There are probably thousands of similar groups across China.
Why Uber beats Didi for friend-finding

Subtle differences in Uber and Didi's apps play a role in Uber's popularity for friend seekers. Didi, for example, requires passengers to input their destinations, and lets drivers pick which rides they want to take. Uber, meanwhile, assigns automatically rides to drivers. As a result, Uber tends to attract more hobbyist drivers who are less concerned with earning big fares on long-distance trips, and more interested in chatting with whoever is in the back seat.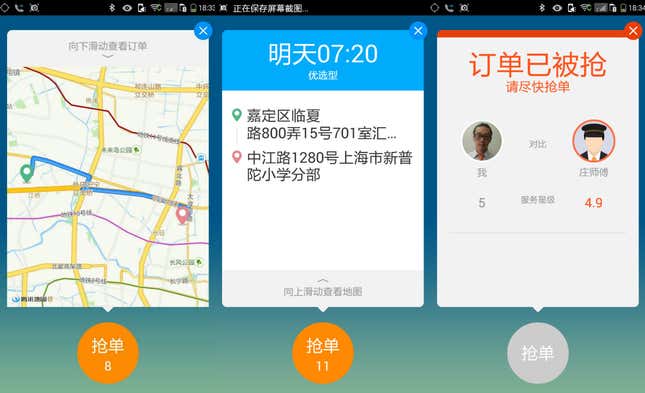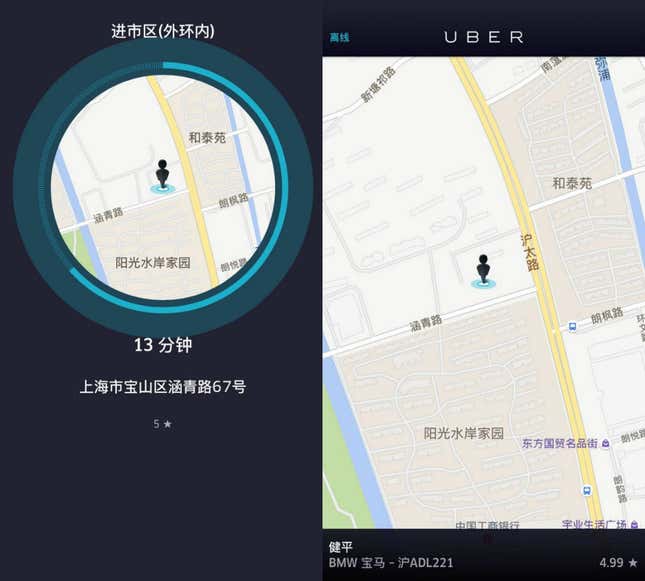 Fu has become a loyal Uber driver, after registering for the two apps at nearly the same time in March of 2014. "I gave up Didi only after one ride," he told me. Fu may sound eccentric, but he's certainly not alone.
Uber driver Tan, who invited me to his home to talk, shares the same opinion. An employee at a state-owned company in his fifties from Shanghai, Tan kept reminding me not to mention his full name or employer as he thinks driving a Uber—which is still illegal for private car owners in Shanghai—might lead to some trouble on the job. He told me he earns about 1,000 yuan a week by driving, a negligible amount compared to his 20,000 yuan monthly salary.
But he enjoys the "thrill" of meeting strangers and driving to a place he would never found on his own, he said. Tan has a regular work shift, so he said he drives whenever he feels like it, sometimes in the early morning or sometimes at midnight. He likes to talk to "elite" passengers who are mostly "white-collars, lawyers, and bosses," getting to know about their lives and occupations as he takes them to their destinations in his Roewe750, a Chinese-made sedan.
As a latecomer to the Chinese market, Uber targets clients with "higher income stratum," which at first meant expats, Tan said. That's why he finds, after trying several apps, Uber helps him connect with the type of people and go to the type of places he may never have encountered though his predictable state-owned company job.
Uber had no specific comment on the friend-finding phenomenon, but told Quartz that over 80% of Uber's China drivers surveyed in mid-2015 were part-time. About 60% of those surveyed had three-year college or higher degrees, and drivers in Beijing had the highest education, with 5% having a Masters or higher.
"Uber's driver partners are overall a well-educated group of people," Huang Xue, a spokeswoman for Uber China told Quartz by e-mail. The company endeavors to provide an "easy, comfortable, and safe" experience, and drivers are "stringently vetted," she added.
Beijing passengers vs. Shanghai passengers
Uber can help with creative friend hunting, business leads, and give you insight into your fellow citizens, Fu believes.
For example, he uses Uber to find tennis partners. Signing on Uber's driver app right after he plays at a court, he is likely to pick up another player, he explained. In this way, he met a man from Portugal who works in the financial industry in Shanghai. They chatted during the ride, friended each other on WeChat, and met up for tennis. "His [tennis] skill is as good as mine," Fu said, "but his English is even more terrible than mine."
He also intentionally picks up Uber passengers after he goes to a state-backed aerospace academy in Beijing to sell electronic components. He wants to know from the passengers coming from the academy "what products they are making," he said. "I might get some opportunities."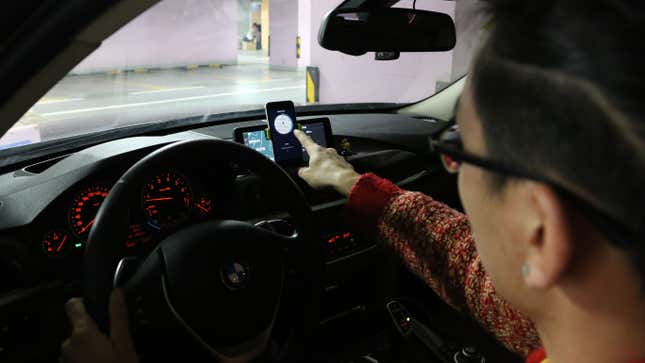 Because Fu drives in China's two biggest cities, he's had a chance to analyze the different personalities of Shanghai and Beijing passengers. Shanghai passengers are more respectful and "petty-bourgeois," while Beijing passengers are more "penny-wise" and rude, he said.
In Beijing, he speaks to his passengers in a harsh manner, complaining directly to them if they didn't clearly put their destinations. In Shanghai, he starts sentences with "please," talks patiently, and even hides a bit his strong Beijing accent which heavily employs the "er" sound at the end of words.
Trading in Mahjong for Uber
With more than 20 years driving experience, Sheng Rongdi, 60, a retiree from Shanghai, started driving for Uber in February after her daughter told her "it must be fun." She used to play Mahjong every day to kill time after retirement, even though she could not stand the cigarette smokers at the nearby Mahjong club. After she picked up driving for Uber as a new hobby, she gave up Mahjong totally.
Sheng gets up at 6am every day, prepares breakfast for her husband and daughter, drives her daughter to work, and then starts her full-time job as a Uber driver from 8.30am to 6.30pm. After that, she goes to the market to buy food and goes home to cook for the family.
In an Uber promotional event for breast cancer awareness in Shanghai, Sheng was selected as a face for the sixties. She says she feels happy when a passenger recognizes her and says "I'm in a celebrity's car."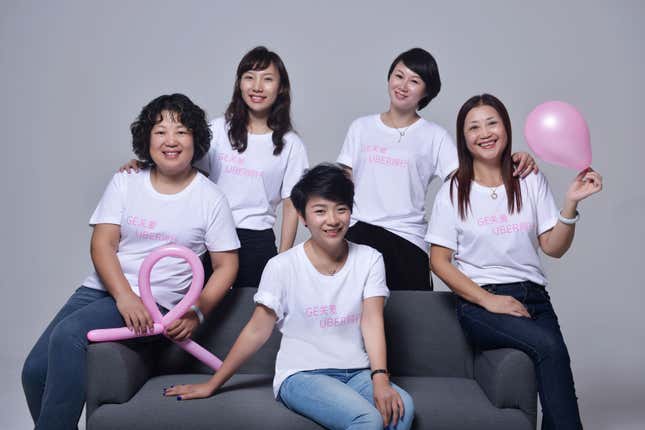 Sheng said passengers often tell her siting in her car is "not like hailing a taxi, but like siting in a family car, very heartwarming." She has become friends with many passengers her age—one has turned into a Uber driver, too, on her recommendation. The two often drink coffee and go traveling together outside Shanghai. Another, who is also a Mahjong player, chitchats with Sheng on the phone regularly, complaining about her unsatisfactory future daughter-in-law.
More time with the family
Tommy Wu, 27, from Shanghai, quit his dependable job as a government bureaucrat to become a full-time Uber driver. "There are 100 ways it is better than going to work," Wu told me after he had just started full-time. He elaborated on two.
First, he earns more for the same hours. As a civil servant, he used to earn just 4,300 yuan a month. Now he drives every day from 5pm to 10pm (most of that period is covered by an extra bonus for peak hours), and often three hours more from 7am to 10am. He estimated his monthly income at around 15,000 yuan as has already earned 2,800 yuan in four days excluding bonus.
What's more important, he said, is he feels more free. In the afternoon, Wu usually takes a rest at home—a nap or several rounds of online game League of Legends. Wu said his one-year-old daughter also "needs parents' company." He used to leave home before his daughter was awake and come back after she went to bed, which meant he could barely see her.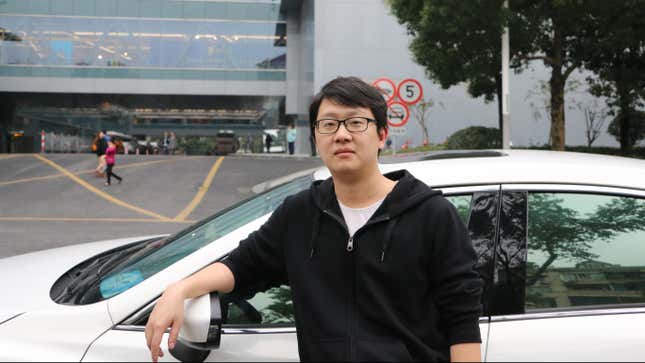 Wu is now enjoying making more money, and hangouts with other Uber drivers, who he communicates with through a WeChat group. Among them, "190 cm," or Fu, is one of his best driver friends. One time when Wu suggested in the chat group they all meet for a midnight snack, 18 people turned up. When they were ready to leave at nearly 2am, they made a decision: They all signed simultaneously onto Uber's driver app and put their phones on the table.
"Whoever got an order first left first," Wu said, "and the last one paid the bill."
This article has been updated with information from Uber about the number of Chinese cities where it operates.