Italians today cast their ballots in the second and last day of Italy's general election, the results of which could well determine how or whether the country escapes its worst recession in 20 years, as well as impact the larger euro zone economy.
So far, snowy weather and a fair dose of disillusion among voters has meant lower turnout. On Sunday, 54% of voters had cast ballots, compared to 63% in 2008. Voting ends at 3 p.m. Italian time and the results will be announced this evening or Tuesday (Feb. 26) morning. In a race that's been dubbed something of an Italian comedy, or theater of the absurd, the cast of candidates includes includes a professor, a comedian, and Silvio Berlusconi, or il Cavaliere. Here's what you need to know.
The basic plot
Italians are electing a new government to succeed that formed by former European Union commissioner, Prime Minister Mario Monti (nicknamed in Italian papers il Professor for his background as a technocrat and lack of charisma). Berlusconi appointed Monti in November in 2011 after resigning at the height of the financial crisis, amid corruption scandals. The main coalitions in the race are a center-left bloc led by Pier Luigi Bersani, a centrist coalition headed by Monti, and a center-right coalition led by Berlusconi. (Berlusconi has promised that if his bloc wins, he won't vy for prime minister but serve instead as finance minister.) An anti-establishment party, the 5-star Movement (M5S), headed by former comedian Beppe Grillo, has made the race more unpredictable by disrupting the traditional divide between the left and the right. Some analysts predict Grillo will take votes away from Berlusconi.
Voters are voting for 315 members of the Senate and 630 members of the Chamber of Deputies. For a coalition to win control of the government, it must have the consent of both houses, but analysts predict it's unlikely any group will win overwhelmingly, meaning weeks of negotiations will likely follow the election as coalitions form alliances to bolster their ranks.
What's at stake
Italy is the third-biggest economy of the 17-member euro zone currency bloc and analysts fear an electoral stalemate could delay reforms needed to stimulate growth, or that a populist coalition will overturn austerity measures. Some believe the most stable, pro-reform result would be a coalition between Bersani and Monti; Bersani has hinted he would form an alliance with Monti to give his government appeal in financial markets and has also said he would continue Monti's reforms. Other analysts say that no matter what government comes into power, it knows it will have to stick to a fiscal reform agenda to keep borrowing costs down for Italy.
Who's ahead
Before a blackout on the publishing of opinion polls two weeks prior to the election, center-left politician Bersani's party was ahead of Berlusconi's by six points. Grillo's party was in third place, polling at around 16%, and Monti's party had 14%. The two leading parties are competing the most in areas like Lombardy, a northern industrial hub with the highest number of Senate seats of any region. Berlusconi has an alliance with the federalist Northern League which has traditionally had a stronghold there. This graphic from Reuters shows those opinion polls.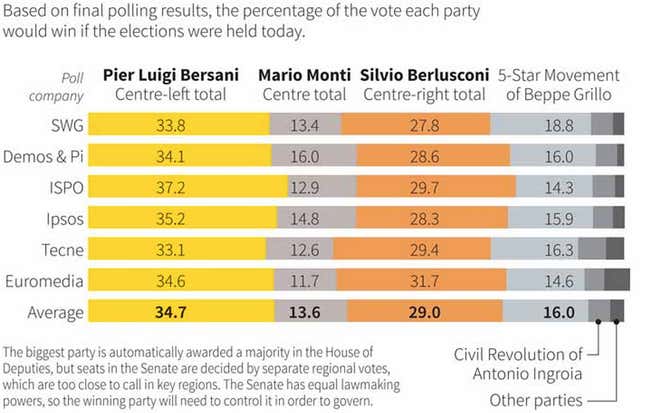 Further complicating results, this is the first winter election Italy has held since World War II, which could favor the center-left whose voters are thought to be more zealous than those on the right. Battleground regions for the Senate could delay election results. These are Lombardy, Campania in the south, Sicily, which has traditionally been the territory of center-right politicians but has swung into Grillo's camp, and Veneto, another northern industrial region.