This is a developing story, last updated at 11:53 pm ET
A mass shooting in San Bernardino, California, has left at least 14 dead and 17 wounded, according to police. Multiple gunmen attacked the Inland Regional Center, which provides social services to people with developmental disabilities.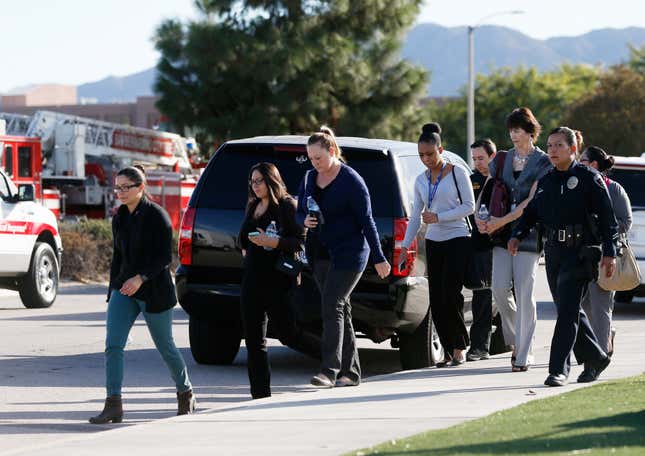 During a press conference, San Bernardino police chief Jarrod Burguan said the gunmen "came prepared for what they did and they were on a mission….They came in with a purpose. They came in with the intent to do something."
The event turned into a manhunt once the masked assailants fled the scene.
A spokeswoman for the San Bernardino Police Department told the LA Times there were three heavily armed suspects, possibly wearing body armor.
Hours later, chief Burguan said in another press conference that two suspects were dead and a third suspect was in custody. Meredith Davis, an agent with the US Department of Alcohol, Tobacco, Firearms and Explosives told television station KTLA two suspects were carrying AR-15 rifles as well as handguns.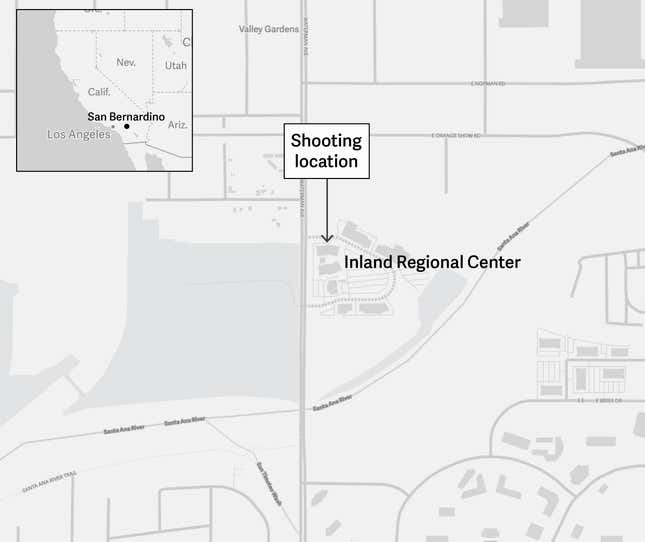 "Is this a terrorist incident? We do not know," David Bowdich of the FBI's Los Angeles field office told reporters.
Dozens of people left the Inland Regional Center at about noon local time (3pm ET) with their hands up, the ABC7 news channel reported. According to several reports, the shooting occurred at the facility's conference center during a banquet for county health department workers.
A man named Marcos Aguilera told the channel his wife was in a nearby building when the shooting began, and that a shooter entered and opened fire.
"They locked themselves in her office. They seen bodies on the floor," Aguilera said to ABC7, adding that his wife was unharmed.
By 3:30pm local time (6:30pm ET) police had engaged a black SUV with a two armored cars in San Bernardino. A male suspect and a female suspect were killed in a shootout with the car.
One suspect has been identified by multiple news outlets as Syed Farook. A person named Syed Farook is listed in public records as having worked as an environmental health specialist for the San Bernardino County Health Department, according to the LA Times. Law enforcement have not indicated that the suspect is the same man.
Chief Burguan said that the dead suspects were wearing "assault-style clothing."
A third suspect was detained after being seen to be fleeing the scene. It is unclear if that person was involved in the incident.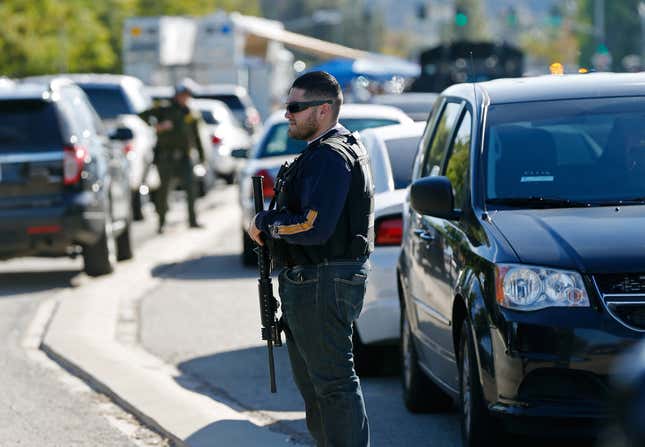 This is the latest in a string of many mass shootings in the United States and comes less than a week after a man attacked a Planned Parenthood clinic in Colorado, killing three people.
US president Barack Obama, reacting to the San Bernadino shooting, told CBS News: "We have a pattern now of mass shootings in the country that has no parallel anywhere else in the world."