How can you make light if you live without access to electricity? Most of us take our desk lamp or the light from our mobile phone's camera flash for granted, but an estimated 1.3 billion global families face that question each day. And even as mobile phones have become seemingly ubiquitous throughout the developing world, that's about one in five people who still are living off the grid.
As you might imagine, access to light is a key driver of development. At a basic level, it helps workers be more productive, and improves the health and lives of families living in remote areas. Many of those without access to electricity live near the equator, where the sun sets quickly and there's no dusk after it's gone.
Instead, they rely on hazardous, polluting kerosene lamps for lighting—a seriously flawed solution. For one, if you're raising young children, the health dangers are troubling: researchers at the University of California found that daily exposure to a kerosene lamp at home was the equivalent of smoking 170 cigarettes a year. What's more, kids can mistake poisonous kerosene for soda because it's usually stored in used soft drink bottles.
Further, kerosene stoves and lamps can lead to fires and serious burns. That the devices are most used in poor, crowded communities where homes are packed together and often made from flammable materials only compounds the problem. And families are spending good money on it—poor households typically dedicate at least 10% of their income on kerosene, which the International Finance Corporation (IFC), an arm of the World Bank, estimates those numbers total as much as $36 billion annually.
But there's good news. Turns out the answer to ending reliance on kerosene could be ready at the drop of a hat. Or, rather, the drop of a weighted bag.
It's called GravityLight. Developed by two Londoners—Martin Riddiford and Jim Reeves—the energy for the light is sourced from mass: rocks, dirt, sand, or any nearby debris, really. As its name suggests, gravity is at the heart of the solution. Once filled, a pulley system uses the slow-falling power of a weighted bag to drive a generator thousands of rotations per minute. Over the course of half an hour, the bag falls back to earth, running a small LED light that shines five times brighter than most kerosene lamps.
This is a radically simple solution to a massive problem. The GravityLight eliminates carbon emissions, provides a safe, burn-free light source, and the device is cost-efficient. Replacing the cost of kerosene means the lamp will pay for itself within two to three months, helping poverty-stricken families ease dependency on fuel.
Originally sponsored by a pitch on the crowdfunding site, Indiegogo, the prototype has been tested over the last few years in Africa, Asia, Latin America and the Middle East. "We have since then been on a swift path to production to take it to scale with a significantly lower cost. [The updated model] is more robust, more effective, more efficient, and the design has been configured to be more easily usable for women and children," said Reeves. The founders launched a second Indiegogo pitch to scale production of the updated model.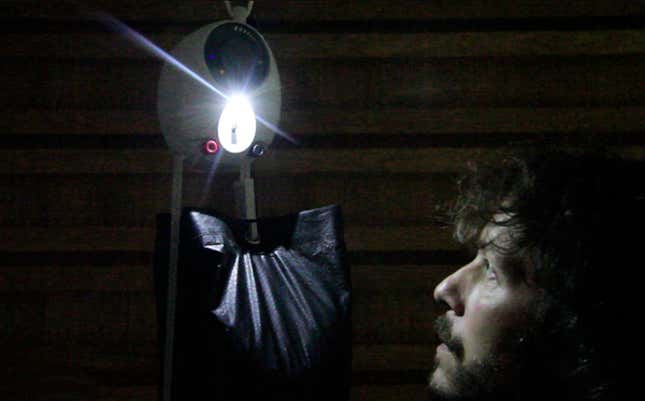 Shell's Springboard award exists to throw its weight behind bright energy ideas just like these—ideas that can make an immediate, tangible difference. Over the last ten years, the fund has helped 86 small and medium-sized enterprises expand their vision for reducing carbon emissions. Recognizing the need for action today, Shell's aim is to rapidly push forward production on market-ready products.
Last year the team behind the GravityLight was named the 2015 Shell Springboard National Winner. That win earned them an £150,000 award to help scale the business, which means the light can do good work much sooner and at a grander scale. The IFC-World Bank Lighting Global program found that replacing all kerosene lamps in use with off-grid lighting would reduce annual greenhouse gas emissions in the United States by the equivalent of approximately 5 percent. For a country like India, that could potentially mean an approximate 12% annual reduction.
An extra hour of light a day will improve lives enormously. Children can study longer, adults can work an extra hour, and families can live safely, brightly, and begin to work free from the burden of energy poverty.
This article was produced on behalf of Shell by the Quartz marketing team and not by the Quartz editorial staff.