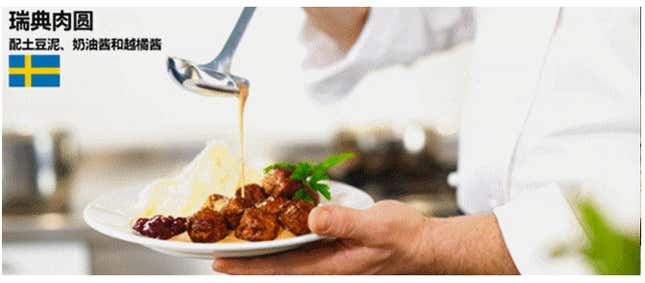 Sweden's Ikea must have been relieved to be able to announce that, unlike consumers in some 21 other countries, Chinese Ikea-goers have been spared the possibility of horse meat turning up in their meatballs.
"The meatballs only have beef and pork as meat content," Ikea China told the China Daily yesterday. "All the meatballs we sell and serve in China are produced in China," the company clarified.
Crisis averted? Not quite. Rather than being reassured, many on China's Sina Weibo social network were outraged that the meatballs they were eating weren't imported from Sweden—and were instead made in China.
"Many Chinese customers say they won't be ordering Ikea meatballs again. The horse meat part doesn't matter. Isn't the important thing that the food production takes place in China?" said one Weibo user (link in Chinese).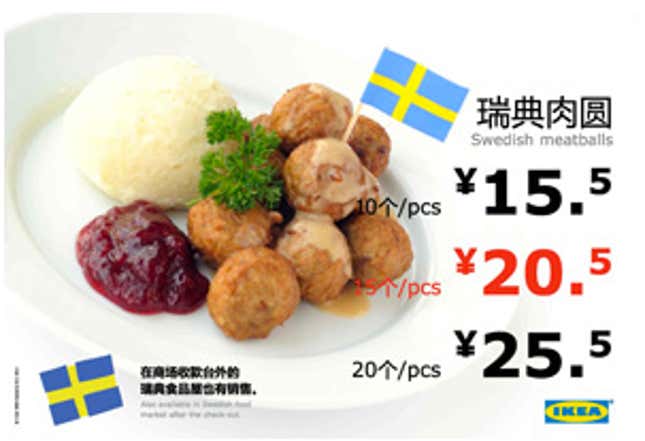 Chinese citizens have become increasingly distrustful of their domestic food supply and outraged by food contamination scandals, particularly after tainted infant formula killed six children in 2009 and made another 300,000 ill. Contaminated food controversies are a continual features of Chinese headlines, and run the gamut of everything from fake eggs and pork with a blue glow to exploding watermelons and yogurt made out of shoes.
"I don't really care about horse meat. The key point is that if it's produced in China, it probably has rat meat," said another (link in Chinese).
Still another was even more skeptical. "In Europe, profiteers just added a bit of horse meat to beef. But in China, you don't even know if what you're eating is actually meat," he said (link in Chinese).