The Poor Richard font was installed and waiting for me on my US embassy computer. The letters of the alphabet jostled each other for space, the apex of the l's and b's seeming about to drag the tall letters onto the left side, and the g's were too fat. Every sentence written in that font felt skinny and broken, with bends that should not be there and a density that made me tense. But you don't get to dictate font when you're merely a ghostwriter.
Former US Secretary of State and current presidential candidate Hillary Clinton loved the Poor Richard font and used it for all of her thank you notes. During my stint as one of secretary Clinton's ghostwriters, I would have to love it too.
Hillary Clinton was the most traveled Secretary of State while she held the title, from 2009 to 2013. I held the title of "State Department intern" in Hanoi, Vietnam, during the summer of 2012. I may have gotten the job just because I stuck through the lengthy application process: education and employment history, personal statement, recommendation letters, and a very probing security clearance (how many foreign nationals did I have intimate relations with, and what are their phone numbers?). And I speak Vietnamese.
Then one day, secretary Clinton visited Vietnam. Even as I prepared frantically for her arrival, I couldn't tell anyone she was coming. The first time I felt comfortable mentioning her was when a Vietnamese cab driver told me, "Hillary Clinton is here," and I replied, "Yes, and I am tired." I had one of her picture frames in my lap.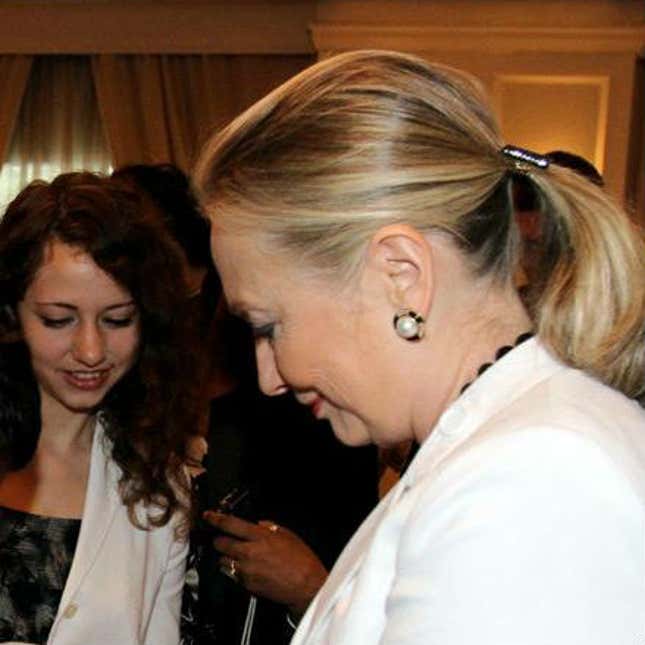 For secretary Clinton's letters, there had to always be two spaces between each sentence, an indentation for paragraphs and another indentation for closing remarks. The date had to be centered, but nothing else was. Reading a letter from start to finish was a dance for the eyeballs.
The first time I ever wrote one of secretary Clinton's thank-yous, I analyzed the letter template my supervisor provided, realizing how many different adjectives I would have to use just for one card. Sometimes I toned down the flourishes, but she was generally grateful, pleased, appreciative, thrilled, thankful, proud, and delighted with the gifts received by government officials. I followed the script, but rated the gifts on a personal scale. I like jewelry, so Hillary Clinton was absolutely thrilled with her necklace.
I made a list of everyone she met and what they gave her. I researched the context of those meetings and what they discussed. I had to evaluate what took place and how successful the event had been. She kept using the wonderously jargoned word "economic statecraft," which I tried to shove into each note. Bilateral partnerships between the US and Vietnam are doing well, thank you.
First, a one-sentence declaration: "Thank you for the informative meeting at the Foreign Trade University and for your lovely gift." Second, a big paragraph with details about what the gift looked like and more importantly, what came of the interaction: "It was an honor to receive your beautiful bouquet and I am proud of what we accomplished together in our discussion of economic statecraft in pursuit of a strong bilateral relationship between the United States and Vietnam." Thirdly, an expression of gratitude: "It has been a privilege and I am deeply grateful." Lastly, a personal touch: "On a personal note, it has been a pleasure to work with you. Thank you for your friendship."
I felt empowered ending each note: "With gratitude and warm regards, I am" [new line, change margins] "Sincerely yours," [drop down six lines] "Hillary Rodham Clinton". After enough times, I almost felt like I was Hillary Rodham Clinton, with gratitude and warm regards. After all, we both graduated from a Seven Sister women's college and wore very similar white blazers.
The State Department trusted me with her words, but did not invite me to attend the events and conferences where she received the gifts. I carried her gifts of silk scarves and flowers from Vietnamese government officials, a framed photograph from the Hilton Hotel, and a plaque from the American Chamber of Commerce to the security conveyor belt for clearance. Before secretary Clinton could have exposure to the gifts, I had to make sure they were safe. If the orange chrysanthemums and pink lotus blossoms had been laced with anthrax, I would have become a Martyred Intern of State.
Hillary Clinton did not care for flowers. Her large bouquets lay around my apartment in Vietnam and eventually I threw them out. Two months later, I flew back to Brooklyn, six months after that, Hillary Clinton resigned as Secretary of State, and 14 months after that, she announced her candidacy for US presidency and opened a campaign office in Brooklyn. With gratitude and warm regards, I am not Hillary Rodham Clinton, but I downloaded the Poor Richard font on my laptop—so I can keep pretending.