The Graduate Management Admission Council (GMAC) just released two reports (pdfs here and here) on who exactly is taking the GMAT, the make-or-break exam for admission into business schools worldwide—and its findings should relieve business school administrators. While the last few years have seen around the same number of test-takers 28,000 more people took the GMAT in test-year 2012 than the previous year—an almost 11% increase.
Here are some things you might find surprising:
That jump is mostly thanks to China. More than 16,000 of the higher numbers in 2012 hailed from the Middle Kingdom. Here's the regional breakdown: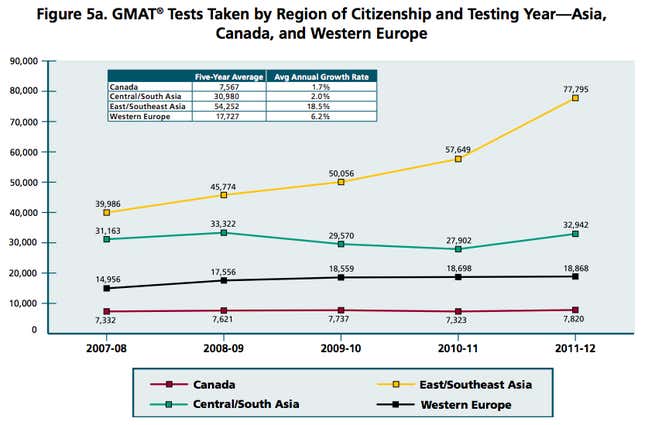 Australia and the Pacific Islands nailed the GMAT. The mean score among that crowd was 594. That's compared with the global average of 548. (Middle Easterners choked—they averaged 440.)
Physics majors turned out to be crackerjack GMAT-ers, scoring an average of 614. The worst-performing undergraduate majors were agriculture and fine arts, with 500 and 506, respectively.
Young people are flocking to B-school (probably because the scarcity of jobs). A majority of Asian and European test-takers were younger than 25. Here's a look at how that's been trending: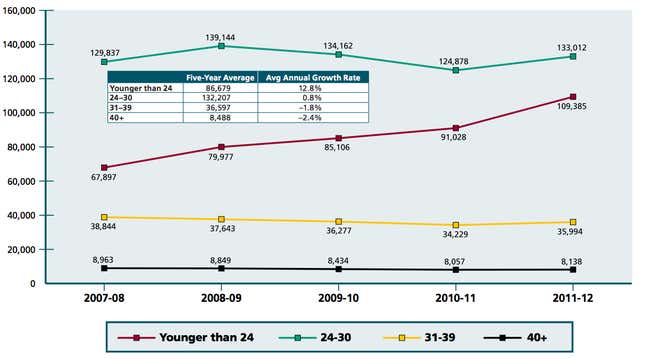 Sorry, women—men scored higher, everywhere.
In some places, that differential was gaping—like Central and Latin America, where men scored 534, and women just 484. The gender score-gap was almost nonexistent in East/Southeast Asians and Australia/Pacific Islands, though.

Women from China, Taiwan, Thailand, Vietnam and Russia are preparing to storm the business world—they formed a majority of exam-takers in those countries. Central and South Asia had the smallest proportion, with only 26%.
The US is losing ground as the MBA destination of choice—while more than 81% of test-takers sent their scores to a US school in 2008, just over 75% did in 2012. Meanwhile, the UK, Canada, India and France round out the top five countries to which examinees sent their scores. And their shares are growing each year.
So does the increase in test-takers signal growing confidence in the MBA pedigree (something that's been hotly debated of late)? Maybe not. GMAC expects that part of the increase was due to the crush of people aiming to sit for the exam before a new GMAT section was added last June. Plus, more and more test-takers—29%, compared with just 17% in 2008—are using the GMAT for non-MBA programs.