Japan government bonds (JGBs) have long been known as a "safe haven" in times of economic uncertainty. And that flight-to-safety demand is helping keep Japanese yields very low.
In fact, they just got lower. The yield on the 10-year benchmark bond fell to 0.67% today, breaking a low it hasn't touched since 2003. Here's a look at the trend: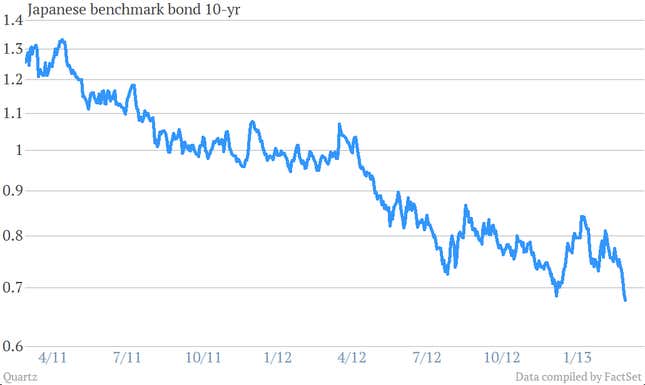 What has investors so spooked? Probably the unexpectedly messy outcome of the Italian election, which apparently reminded everyone that politics are still a big risk to the future of the euro zone. The result? Investors scrambling back to safety—that is, buying the bonds of "safe" countries such as Germany, Japan and US.
So what's the point?
The point is after months of seeing yen weakness, the yen has stopped slipping. In fact, it is now strengthening again (see chart below). And that's precisely what Japan's new pro-growth prime minister Shinzo Abe does not want. That's because a weaker currency is vital to his effort to revive Japanese exports.
All else equal, any investor rush to the safety of Japanese bonds would add to the yen's strength. (Remember, you have to buy yen before you spend them on Japanese government bonds.) So that's another headwind gusting toward Japan.