Former NBA star Stephon Marbury has found success in China. After joining the Chinese Basketball Association in 2010, the former New York Knicks point guard has won the Beijing Ducks three championships over the past four years.
In return, he's received the title of honorary Beijing citizen, a statue of him outside the arena, and his own series of postage stamps. His newest reward is another rarity— a hard-to-get Chinese "green card," or permanent residence permit. With it, Marbury becomes one of the very few celebrities in modern history to get permanent residence in China.
"I'm so blessed and thankful to receive my Chinese green card," Marbury wrote Tuesday (Dec. 15) on his Twitter-like Weibo account (registration required), confirming Chinese media reports. "Being the first foreign basketball player to receive a green card means a lot in making history in China." His April application was approved recently, Marbury told Chinese state media, and he'll officially receive his green card on Christmas Day.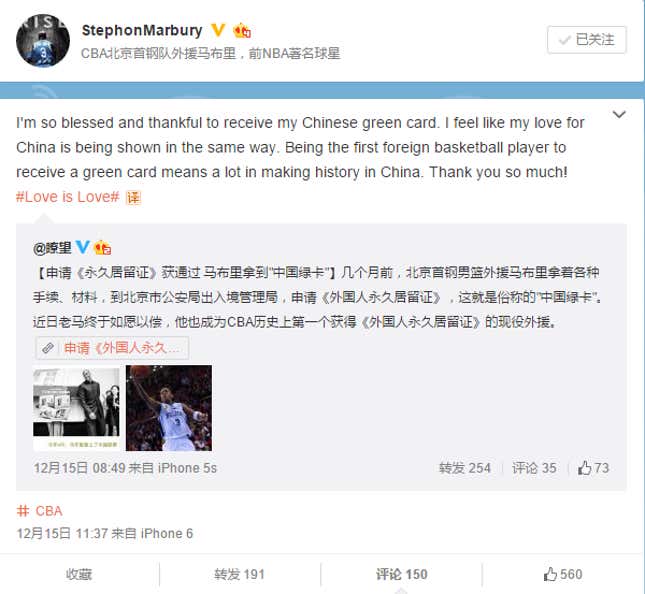 Marbury will become one of only 5,000 foreigners granted a permanent resident permit since China launched its own green card system in 2004, out of 600,000 foreigners living in the country. The US, on the other hand, issues about 1 million green cards every year.
Though a green card, once received, is valid across China, major cities like Beijing and Shanghai have their own rules about how to apply. In Beijing, people who qualify include big investors, business executives, science and tech experts, and those who "have made outstanding contributions" to China—Marbury reportedly fits into the last category. In Shanghai, the criteria have been relaxed since July to foreigners from all walks of life.
This month, Beijing's Zhongguancun Science Park, aka "China's Silicon Valley," proposed a pilot program to make it easier for foreigners to get permanent residency, including a special card system designed for overseas ethnic Chinese.
To the best of our knowledge, no foreign celebrity since the formation of the People's Republic of China has received a permanent residence card. This could make Marbury a perfect face for promoting China's immigration policy. After all, the country needs innovative talents—or simply big tax payers like Marbury—to drive its slackening economy.
As for Marbury, his green card could translate into money-making opportunities. "It just added more legality part to being able to do investments," Marbury told state media China Daily, "and to bring business here legitimately, and then to buy a house, and to buy a car, to do little different things in Beijing."
The business he has in mind is probably his $15 "NBA quality" sneakers brand Starbury One, and his Chinese connection will definitely help him to expand the brand here. He plans to retire eventually from the Beijing team and become a coach there. The 38-year-old Coney Islander will also open a Beijing museum featuring his items from his NBA days and a wax statue crowdfunded by fans (link in Chinese) before Christmas.
Once called a "lone wolf" in his roller-coaster NBA career, Ma has been rehabilitated in China, which is reflected by his localized nickname 马政委, or "Political Commissar Ma." It means a Chinese military official surnamed Ma (which sounds similar to "Mar"), who educates, inspects, disciplines and unites his soldiers.