Sometimes people punch walls.
They punch other objects too, but it's mostly walls. Walls are big, they're imposing, and they're almost always nearby.
But who are the wall punchers, and why do they do it?
Thanks to the US Consumer Product Safety Commission (CPSC), we finally have some answers. The CPSC tracks emergency room visits at about 100 hospitals each year; we took a look at all of the wall-punching-related visits from 2014.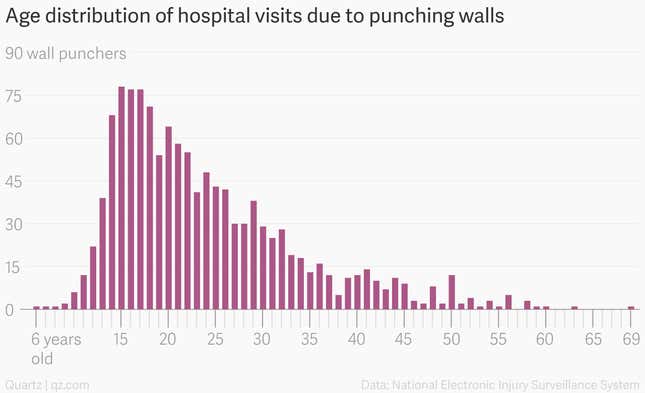 In total, there were more than 1,200 patients treated in 2014 for injuries sustained while punching walls. As you can see in the chart above, teenagers punch walls far more than any other age group, and the most prolific wall punchers of all are 15-year-olds.
The CPSC dataset includes brief, anonymous descriptions of each hospital visit. Here are a the actual notes for some of the 15-year-old patients, lightly edited for clarity:
15-YEAR-OLD MALE WAS UPSET, PUNCHED WALL WITH FIST. UPSET W/ MOM WHO SAYS ROOM WAS NOT CLEAN ENOUGH

15-YEAR-OLD FEMALE AT HOME WAS ANGRY AND PUNCHED A WALL, CAUSING A PICTURE TO FALL OFF THE WALL, LANDING ON HER FOOT

15-YEAR-OLD MALE  PUNCHED A WALL IN ANGER AFTER WASN'T ABLE TO SEE HIS GF
You may be wondering why the oldest patient on the chart punched a wall, but there's no reason listed for the 69-year-old. It seems patients on the older end of the spectrum don't really like to talk about what got them there:
48-YEAR-OLD MALE PUNCHED A WALL, DOESN'T WANT DESCRIBE SITUATION THAT CAUSED HIM TO DO THIS
It's also worth noting that while most of the wall-punching in the data appears to be done in fits of rage, a few are just sporting accidents. Others are a combination of both:
36-YEAR-OLD MALE CAGE FIGHTER THREW A PUNCH & FELT WRIST POP. TOOK OFF GLOVE & SAW HAND SWELLING & THEN PUNCHED A WALL
Although many of these examples involve males, about a quarter of the punchers we found are female:
Wall-punching doesn't seem to occur on any kind of seasonal basis. On average there were about 104 wall-punching incidents per month in the hospitals sampled, and they were fairly evenly distributed over the year.
While walls appear to be the top inanimate object, by far, that people punch—or at least the top object that lands punch-throwers in the emergency room—people sometimes punch other objects as well. Here are the other things they punch the most:
Notice that patients visited the emergency room on two separate occasions for punching paper towel holders. In case you're thinking there must be some kind of mistake in the data, here are the descriptions of each:
16-YEAR-OLD MALE PUNCHED A PAPER TOWEL DISPENSER
15-YEAR-OLD MALE PUNCHED A PAPER TOWEL HOLDER AND BROKE HAND
For the sake of space, the chart above only includes items involved in multiple patient cases. But there were many other unique objects that landed punch-throwers in the hospital last year. Here are the descriptions behind just a few of those incidents:
A 15-YEAR-OLD MALE PUNCHED A PARKING METER LAST NIGHT, SPRAINED HAND

12-YEAR-OLD MALE HAD AN ARGUMENT WITH DAD, PUNCHED A THERMOSTAT
14-YEAR-OLD MALE, PAIN TO RIGHT WRIST, PUNCHED A FILE CABINET

17-YEAR-OLD WHITE MALE AT HOME, LEFT HAND PAIN AFTER [HE] PUNCHED A WASHING MACHINE
Notes on methodology: In the wall-punching data, we included records with "punched wall" or "punched a wall" in the visit notes. We intentionally excluded cases where patients "punched a concrete wall" and "punched a brick wall," because we consider that an entirely different thing than punching some run-of-the-mill plaster or drywall. For the other objects, we programmatically searched for "punched x" and "punch a/an x," and counted the objects that returned the most results.