Chinese university president Zhou Wenbin was sentenced a lifetime in jail for taking bribes and embezzlement in a court in southeast Jianxi province on Tuesday (Dec. 29), according to Xinhua (link in Chinese).
Zhou, who headed Nanchang University since 2002, is the latest higher education official to be caught up in China's ongoing corruption crackdown. So far this year, 32 university officials have been accused of taking bribes or other corruption (link in Chinese). In November, eight school leaders, including the president of the elite Communication University of China in Beijing were removed from their jobs for corruption.
Zhou, 55, was dubbed "the most handsome university president" by internet users during his tenure at Nanchang (perhaps because he is about a decade younger than most other university presidents in China). He was convicted of taking more than 20 million yuan ($3 million) in bribes from contractors, Xinhua said, citing the court verdict.
The state media report also includes excerpts from a "letter of remorse" Zhou allegedly wrote, which paints him as sexist and power-hungry. "My idea in my bones is that, as a man come to this world, he must first conquer the world, and then conquer women," Xinhua reports Zhou wrote. Zhou also described himself as the "abbot of the big temple," and other school leaders as "pilgrims," in the undated letter, which was not reproduced in full.
A police investigation found that Zhou, who is married, had improper sexual relations with multiple women, and traded power for sex, Xinhua reported, although none of these accusations figure into the final charges against him.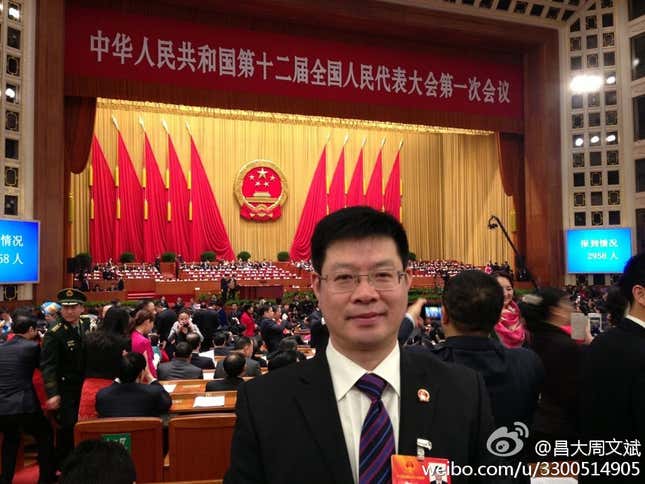 It is possible that Xinhua's exclusive reporting on Zhou's remorse letter is another well-orchestrated smear campaign. Last week, the state news agency dug into the personal life of  Guangzhou-based labor activist Zeng Feiyang, claiming he had affairs with eight women, after he was detained in a sweeping crackdown on labor rights NGOs. Other targets of smear campaigns by state media have included venture capital capitalist and blogger Xue Manzi and several human rights lawyers and journalists.
After all, Zhou pleaded innocent before the court and plans to file an appeal. In a separate letter distributed by his lawyer Zhu Mingyong, Zhou called his trial is "an unjust judgement from substance to procedure." In the letter (link in Chinese), Zhou also quoted Confucius, saying "Man takes death over humiliation."

Zhou claimed during his yearlong trial that the investigation was motivated by revenge, by former Jiangxi province chief Su Rong, who was probed for corruption in June of 2014. Zhou also claimed Jiangxi authorities had tortured him to extort "confessions," and threatened his wife. Zhou told the court once he was forced to stand, awake, for ten days in a row, the Paper reported (link in Chinese).
Unusually for a university president, Zhou maintained his own microblog Weibo account (link in Chinese, registration required). He attracted nearly 50,000 followers, posted photos of himself voting at legislative meeting, and sometimes interacted with his students. If the Xinhua report is part of a smear campaign, it is failing—after his conviction was announced, commenters on his Weibo page were overwhelmingly supportive.