The abduction of a Hong Kong bookseller, allegedly over an upcoming book about an ex-girlfriend of Chinese president Xi Jinping, has sparked unprecedented criticism from Hong Kong's normally pro-Beijing government.
Lee Bo, an employee with Hong Kong's Causeway Bay Bookstore, went missing last Wednesday (Dec. 30) evening, the fifth person linked to the bookshop to disappear. He is believed to have been abducted by mainland security officials. On Monday (Jan. 4), Hong Kong's chief executive Leung Chun-ying, who has been unrelentingly derided as a puppet of Beijing, unexpectedly spoke out.
"The freedom of the press, the freedom of publication and the freedom of expression are protected by laws in Hong Kong," Leung said during a hastily-called press conference. "It is unacceptable if mainland legal agencies enforced law in Hong Kong as it is against the Basic Law," he said.
Hong Kong's deputy leader Carrie Lam and lawmaker Regina Ip, two of Hong Kong's most renowned pro-Beijing politicians, have also expressed their concerns about the situation. Hong Kong's minority pro-democracy lawmakers were even more forceful. Bo's disappearance is "A fatal blow to 'one country, two systems' and Hong Kong's judicial independence," legal sector lawmaker Dennis Kwok wrote in a letter to Hong Kong's mainland affairs office.
Lee, three bookstore employees, and the Swedish-Chinese owner of the bookstore's publishing house, which prints books critical of China's Communist Party, have disappeared since October.
The five are believed to have been kidnapped by Chinese security officers, possibly because of an upcoming book about the love life of Chinese President Xi Jinping, Hong Kong lawmaker Albert Ho told a press conference on Sunday (Jan. 3). "To my knowledge … the book concerns the story about the girlfriend … [from] some years ago," Ho said.
Ho said he had heard from customers at the Causeway Bay Bookstore that Mighty Current, the publishing company that owns the store, was publishing a book about Xi's ex-girlfriend. "There were warnings given to the owners not to publish this book." Ho said. "This book has not yet gone to print, but probably it has something to do with this book."
Xi has been married to former singer Peng Liyuan for about 25 years, and led an anti-corruption campaign that has made adultery grounds for banishing officials from the Communist Party. Xi's first wife, Ke Lingling, the daughter of a former Chinese ambassador to Britain, moved to the UK in the early 1980s after a short marriage. It is unclear what time frame the unpublished book covered, or whether it alleges Xi had an extramarital affair.
Hong Kong police are investigating Lee's disappearance and that of three of the other missing bookstore employees. Swedish authorities are investigating the disappearance of Gui Minhai, a Swedish national and co-owner of Mighty Current, who went missing during a vacation in Thailand.
Established in 1994 in one of the city's busiest shopping district, the "upstairs" Causeway Bay Bookstore sells titles critical of the Communist Party that are banned across the border in mainland China. The current top-seller is 2016: Collapse of the Communist Party of China, followed by Shen Bing's account—My Story With Zhou Yongkang. (Zhou, China's former security czar, was given lifetime in jail for corruption in Xi's anti-graft campaign. Shen, an aide to Zhou, has been investigated.)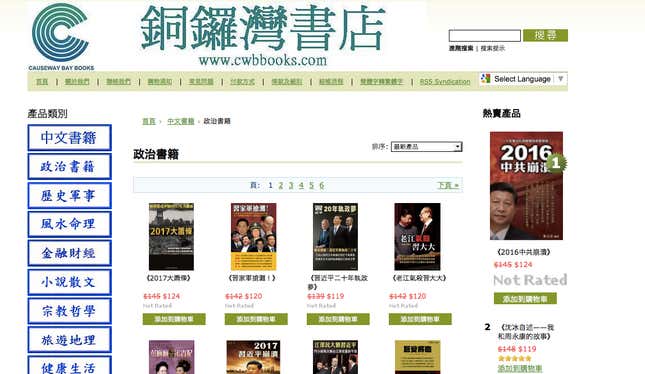 Lee's wife Sophie Choi said Saturday (Jan. 2) her husband had called her from a phone number in Shenzhen to say he was "assisting in an investigation." There was no record of Lee leaving the city, the SCMP reported, citing an unidentified police source. Choi said that she found Lee's mainland travel permit still at home.
An editorial (link in Chinese) published today (Jan. 4) by the nationalistic state-run tabloid Global Times warned the Hong Kong public should not use the incident to question "one country, two systems" but should "rethink" the bookstore's spread of political rumors and "social disorder" to the mainland.