In the area between the southern Italian cities of Naples and Caserta, people are dying of cancer at a much higher rate than the rest of Italy, according to a recent report (pdf in Italian). The reason is in the name of the area, which is colloquially known as Terra dei Fuochi, or Land of Fires.
The region, made famous by Roberto Saviano's book Gomorrah, has long had a history of illegal toxic waste disposal by the mafia. The nickname "Land of Fires" refers to the practice of burning this waste in the open, which aggrieved locals track online via crowdsourced alerts. At the time of writing, over 1,000 fires have been logged this way.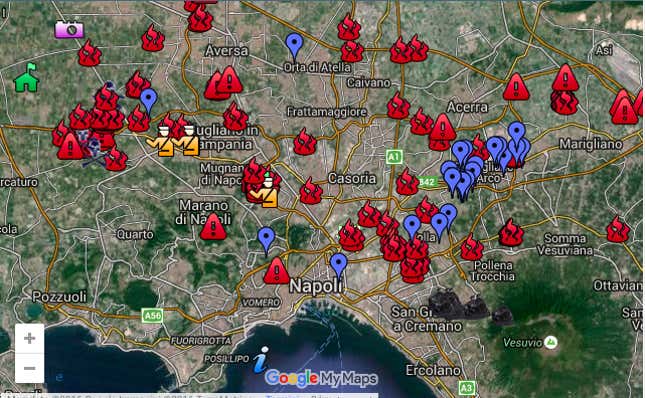 A recent study by Italy's national health institute detailed the trends in tumors observed by doctors in the provinces of Caserta and Naples, where such fires are prevalent. The report noted a higher than average risk of hospitalization and mortality in these provinces for several types of cancers, especially among women and children.
The report didn't link the cancers directly to the fires, but suggested a strong connection with the disposal and burning of toxic waste, Loredana Musmeci, one of the authors of the study, told Quartz.
The activity has been shown (link in Italian) to be a big earner for the Camorra, the local mob. Legambiente, an activist group, estimates that the so-called ecomafia (link in Italian), or the arm of organized crime that exploits the waste-disposal business, comprises at least 86 different clans and makes more than €20 billion ($21.5 billion) per year in Italy, €4.3 billion in the region around Naples alone.